Lord Heseltine has suggested the Conservatives are on course to win a second term in government and said David Cameron is right to build his campaign around the economy.
Speaking exclusively to IBTimes UK, the former deputy prime minister also scotched claims that Cameron lacks the passion to win the election, saying he wanted a serious politician not a "B-movie star" running the country.
Cameron's campaign has been heavily criticised in recent weeks for focusing too narrowly on the economy, while the prime minister was accused of being complacent about the threat posed by Ed Miliband.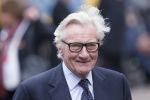 However Heseltine believes Cameron, and his campaign chief Lynton Crosby, have got their pitch spot on.
"​The economy card is critical and central" Heseltine told IBTimes UK. "David Cameron rightly is playing to his strengths.​
"​I believe [Crosby's] advice is sound, It coincides with all my experience. [Cameron should] stick to the central message and keep going."

Although various opinion polls have suggested the public is disenchanted with Cameron and his perceived lack of passion, Heseltine said: ​"I want competence, determination and a sense of direction in a Prime Minister not the qualities of a B-movie star."
The Tory grandee also expressed confidence about his party's prospects in next Thursday's polling, even the polls suggest the two parties are neck-and-neck.
Shadow Business Secretary Chuka Umunna has said he will approach Heseltine for advice should Labour win the election. However Heseltine said: "I'm booked to help the next Conservative government," adding "I don't think Ed Miliband will be prime minister."
Heseltine also told IBTimes UK that the prospect of a coalition between the Conservatives and Ukip was "unthinkable," adding that such a pact "won't happen."