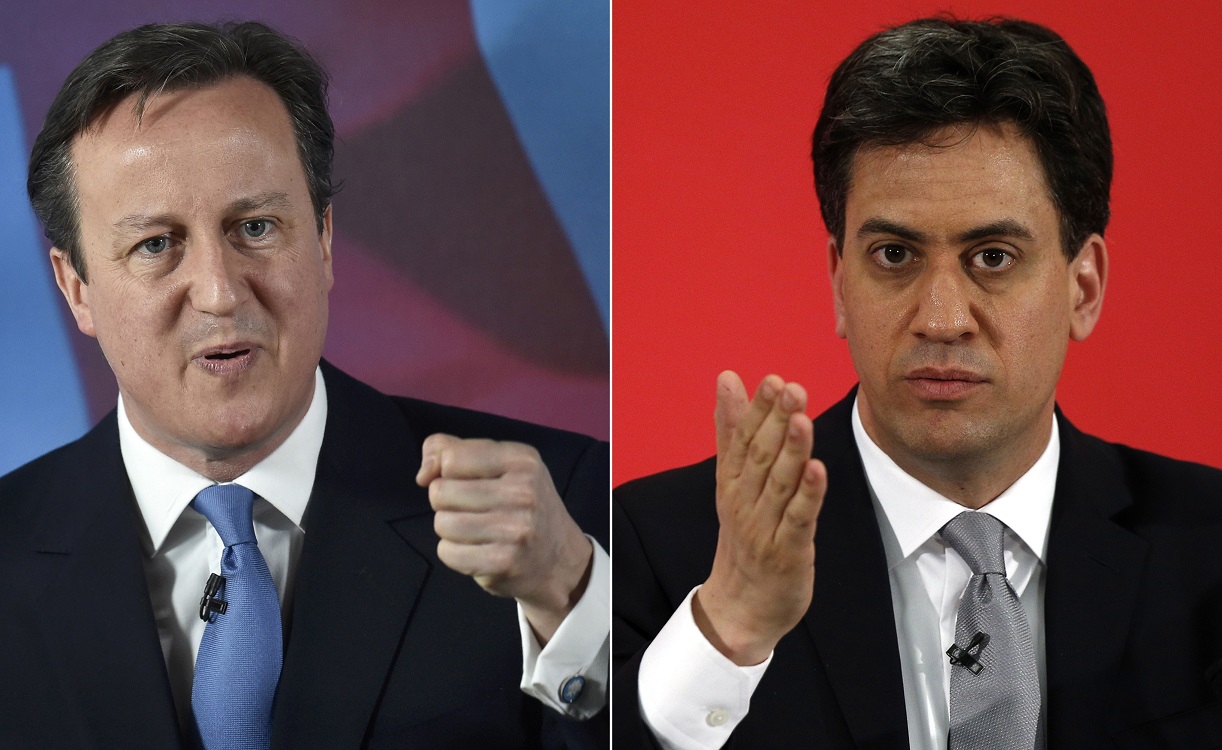 Britain's governing Conservatives and the opposition Labour Party were tied on 33% in a late-night survey published by pollsters Survation on the eve of the 7 May general election.
The poll was consistent with many others that have shown the election too close to call, with no party set to command an outright majority in parliament
And a YouGov poll for the Sun newspaper also showed the two parties neck-and-neck, with the Tories and Labour on 34%. The results showed both the Conservatives and Labour unchanged from Tuesday's poll numbers, YouGov said
The Conservatives have opened a slender lead over Labour in one of the final polls to be published ahead of the general election.
In the latest TNS poll David Cameron's party stood at 33%, down one point since last week, while Labour had also dropped by one point to 32%.
The snapshot of voting intention suggests the UK is heading towards a hung parliament on Thursday, the third since 1974.
The Liberal Democrats were on 8%, Ukip on 14% and the Greens on 6%.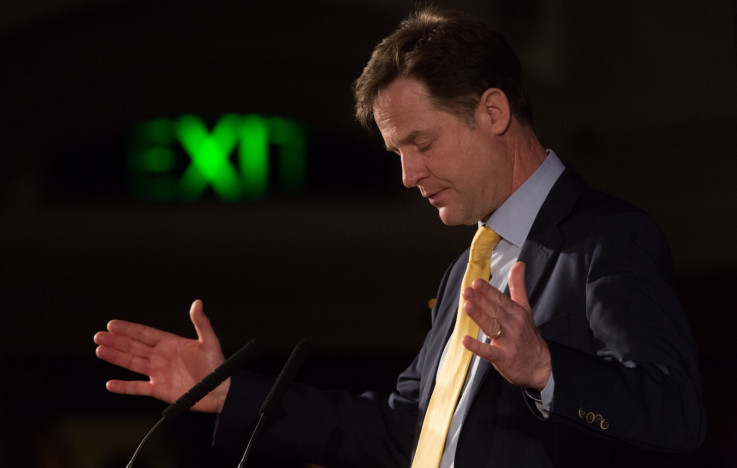 Some opinion polls have put Nick Clegg behind in the Liberal Democrat leader's Sheffield Hallam seat
Getty
Cameron, Labour leader Ed Miliband and the Lib Dems' Nick Clegg made last-minute dashes across the country to drum up support for their respective parties ahead of what is predicted to be one of the tightest elections in a generation.
Elsewhere in an ICM poll for the Guardian, Labour clawed back a three point deficit to tie with the Tories on 35%.
In the final ICM poll of the campaign, Miliband's party pulled back three points compared to the last ICM poll nine days earlier, with Ukip falling 2% at 11 points and the Lib Dems unchanged at 11%.
Earlier today, Cameron told BBC Radio 4's Today programme that he was still aiming to win an outright majority.
"I'm still fighting for a majority," he said, adding he would "always put the country first and always do what I can to provide that strong and stable government."
Speaking to BBC Radio 5 Live, Miliband said David Cameron was Britain's biggest threat and that he was going to "focus people today on the big choice in this election".
Their comments come after Clegg outlined the Lib Dems as a party for coalition, saying without their input there would be another election by Christmas.