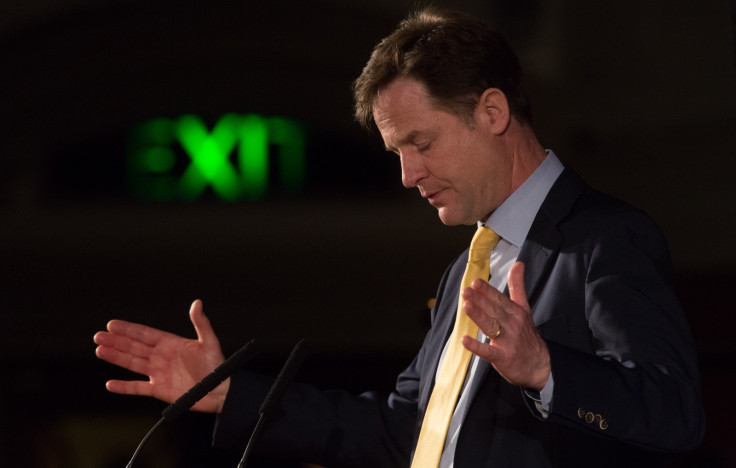 Nick Clegg is taking the Liberal Democrat battle bus on a 1,000-mile tour of the UK, from Lands' End to John O'Groats, with less than 48 hours to go before polling day.
The deputy prime minister will frame the general election to voters as the "biggest political decision of your lives".
"The stakes could not be higher on Thursday. Our economic recovery is at risk. Our shared British values of tolerance, generosity and respect for others, are under threat. And our United Kingdom could be pulled apart," Clegg will say.
The Liberal Democrat leader will warn that the Tories would "lurch" to the right and Labour would "lurch" to the left without his party anchoring them to the centre ground in government.
The comments come as the opinion polls show that a hung parliament (where no party holds a majority of the seats in the House of Commons) is the most likely outcome of the 7 May vote.
"Everybody knows no one is going to win this election outright – even if David Cameron and Ed Miliband won't admit it," Clegg will say.
"So, what really matters is who they have by their side. Ask yourself this: Do you want Nigel Farage walking through the door of No 10? Do you want Alex Salmond sat at the cabinet table? Or do you want me and the Liberal Democrats?"
But one of the uncertainties of the election is Clegg's future in Westminster. He secured a majority of more than 15,000 at the 2010 general election in Sheffield Hallam, now some opinion polls have put him behind Labour in the Yorkshire seat.
A survey conducted by Lord Ashcroft in April showed that Labour were one point ahead of the Liberal Democrats in the constituency (37% vs 36%).
However, a separate and more recent study by ICM for The Guardian put Clegg seven points ahead of Labour's Oliver Coppard. The research revealed that Tory voters were throwing their support behind the deputy prime minister.
The main difference between Ashcroft's and ICM's methodologies was that the former did not name Clegg in his survey, whereas ICM did.