Election 2015: Nick Clegg lays down Lib Dem 'red line' on NHS spending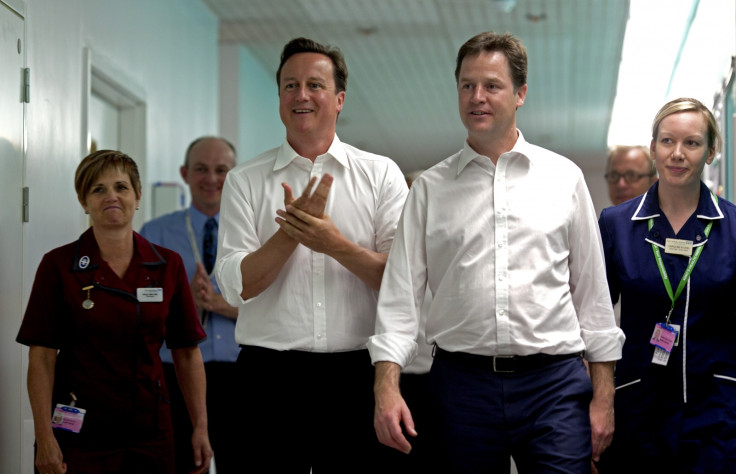 Labour or the Conservatives will have to pump an additional £8bn ($12bn) per year into the NHS by the end of the next parliament if they want to go into government with the Liberal Democrats, Nick Clegg has declared.
The deputy prime minister laid down the health "red line" with just six days to go before the general election, where a hung parliament is predicted to be the outcome.
Clegg explained that his party had committed to Simon Stevens' recommendations to plug the health service's funding gap in England and argued that the other parties must follow suit.
The Tories have committed to the annual £8bn figure but Labour have promised to fund the NHS by an extra £2.5bn a year as part of their "Time to Care Fund".
Clegg said: "We won't join a government that refuses to commit to giving the NHS the money it needs or set out how it will pay for it."
"The NHS doesn't need warm words, it needs hard cash. If you love the NHS so much, put your money where your heart is. That's what the Liberal Democrats have done."
The speech comes after the Liberal Democrat leader unveiled his party's "red line" over education earlier in the week.
He said the Tories and Labour must commit to raising the education budget in England to more than £55m if they want to form a coalition government with the Liberal Democrats.
"What we know in our hearts is that spreading opportunity and giving people a fair chance in life is what we're in politics for – it's why we get up in the morning," Clegg said.
The deputy prime minister also called for a so called "Stability Budget" within the first 50 days of the next parliament.
© Copyright IBTimes 2023. All rights reserved.