Election 2015: Nick Clegg and Nigel Farage will lose in constituencies says Lord Ashcroft poll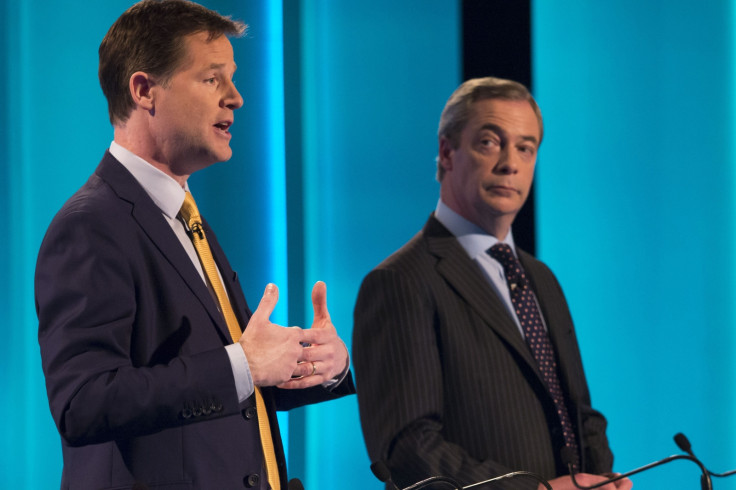 Both Nick Clegg and Nigel Farage will fail to win their seats at their respective constituencies of Sheffield Hallam and South Thanet at the general election, according the latest Lord Ashcroft poll.
The Lib Dem leader is predicted to lose out to Labour's Oliver Coppard by a margin of 36 points to 37.
In South Thanet, where Farage has claimed he will quit if he does not win a seat at following the general election, is currently two points behind Conservative candidate Craig Mackinlay's 34%, according to the poll.
If the predictions turn out to be correct, there will be added pressure on Clegg to stand down at the end of the 7 May election if he fails hold on to his own constituency. Farage has previously said it will be "curtains for me" if he does not take South Thanet from the Tories.
However, the question on the Lord Ashcroft poll asks: "If there were a general election tomorrow, which party would you vote for?" without naming the candidates. Both the Lib Dems and Ukip will hope their big name candidates will help swing the vote in their favour come election day.
In his commentary of the polls, Ashcroft describes the South Thanet and Sheffield Hallam constituencies as two of the "most intriguing and closely contested seats" of the campaign.
He added: "In Thanet South, I found the Conservatives two points ahead of Ukip, 34% to 32%, despite nearly nine out of 10 voters there saying they have had campaign contact from the challengers.
"In my recent polls in the constituency I have found the Labour share drifting down as the Tory share edges up, suggesting that Labour supporters may be lending their vote to the Conservatives to stop Nigel Farage. However, the lead remains well within the margin of error and the seat could still go either way.
"Labour's lead in Sheffield Hallam is down to a single point, compared to two in March and three in November. While 30% of 2010 Liberal Democrats in the seat say they intend to vote Labour next week, 31% of 2010 Conservatives say they will now vote Lib Dem.
"Tory voters in the seat were also notably less likely than they are elsewhere to say that they rule out voting for Nick Clegg's party. Their decisions could have more impact than most in determining the shape of the next government."
© Copyright IBTimes 2023. All rights reserved.