During the last election in 2010, Britain's small business community was a tiny minority largely invisible to the political elite.
Two million small firms later, and this growing constituency can no longer be ignored. The party that wakes up to this fact will win important long-term political points.
According to the StartUp Britain tracker, for the last three years record numbers of people have been setting up in business. In just two years, more than a million new companies have been registered with Companies House. One in 10 domestic properties in the UK is now home to at least one business.
This new breed of entreprenuer is not just business-focused, they are starting up because they have a particular skill they want to capitalise on, are becoming frustrated with their job or just want to make more money.
So what have we got for these? In the end a fiddly, mixed bag of pledges aimed loosely at the entrepreneurial world.
We've said before what we'd like to see; tax-deductible childcare for the self-employed, share ownership for firms that are growing by outsourcing so they can attract and keep talent, a kite mark for firms and Government departments that go out of their way to offer contracts to small British firms and strict penalties for large corporates that refuse to pay small companies on time.
We'd like to see more space opened up so small businesses can move in to sell or co-work, and we want the Big Six energy firms to dedicate the cash collected from small business closed accounts to support schemes that get the right advice to small businesses, at the right time.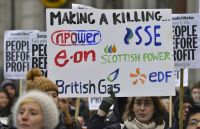 While big companies can afford to pay public affairs firms and lobbyists to campaign on their behalf, small firms, which employ an estimated 11.4 million people, 47% of the total UK private sector employment, don't have the same access straight to the heart of Government.
I do think the Conservatives have a great track record; they created StartUp Loans and the conditions of confidence under which small businesses now trade. We welcome a review of business rates because they disproportionately affect small firms, we welcome a northern powerhouse and the Small Business and Enterprise Bill is well-timed. But they could go the extra mile.
With the closure of Growth Vouchers, there is no longer an advice programme for the smallest of firms who can also get forgotten when it comes to international trade, with UKTI firmly focused on medium-sized businesses to hit ambitious export targets. These gaps in the market are being plugged by the private sector but, in my view, the best support for small business is delivered by a partnership of large corporates, government, and entrepreneurs themselves.
Not too much of a choice
More comment on the election

Simon Walker: Cameron and Miliband both guilty of taking Uk Plc for granted in their campaign.

James Caan: Whoever wins the elction, next government simply can't fail Britain's start-ups

Joanna Shields: Labour's retro economic policies would damage Britain's economic recovery
Labour is looking to freeze business rates, which is welcome but, to pay for this they want to maintain the current level of corporate tax. For the small business voter, this doesn't offer too much of a choice. What does disturb me is the noises Labour make around how the self-employed are helpless and exploited, and earn less and less all the time. We need a distinction between those that really want a job and those who are deliberately making a lifestyle choice.
We'll miss Vince Cable's stoic foresight and long-term vision. We are experiencing significant changes to the way we work akin to the industrial revolution, enabled by technology. For that we need infrastructure and systemic change.
Under Cable, the Liberal Democrats largely echo the existing work of the Coalition Government around the extension of the Business Bank –but want to see a green innovation element introduced. They would also continue to ring-fence the science budget and invest more in Catapault, an initiative designed to bridge the gap between universities, research institutions and business.
And the Greens? They have incorporated small business policies, like increasing corporation tax for large firms to 30% while keeping it at 20% for smaller ones. I don't agree with that. While small companies need more opportunity and initial support, they are not charities. What we want is an even playing field, not one that penalises success.
Ukip want to increase free local parking and fines for repeated late payment, and they would repeal EU legislation that stifles business growth. While we might support the latter after our latest report on the way EU VAT legislation is punishing micro digital firms, we'd worry that it might go a little bit too far.
Small and micro firms and the committed self-employed want to know if the way is clear for them to build a business the way modern businesses start-up and grow – starting from home, growing by outsourcing, going global and subcontracting. Whichever party understands this will secure their vote.
Emma Jones, MBE, is founder of small business network Enterprise Nation, and was one of the co-founders of national enterprise campaign StartUp Britain. She is also chair of the trustee board for careers platform Plotr.