Election 2015: Polish prince Jan Zylinski challenges 'idiotic' Ukip leader Nigel Farage to a duel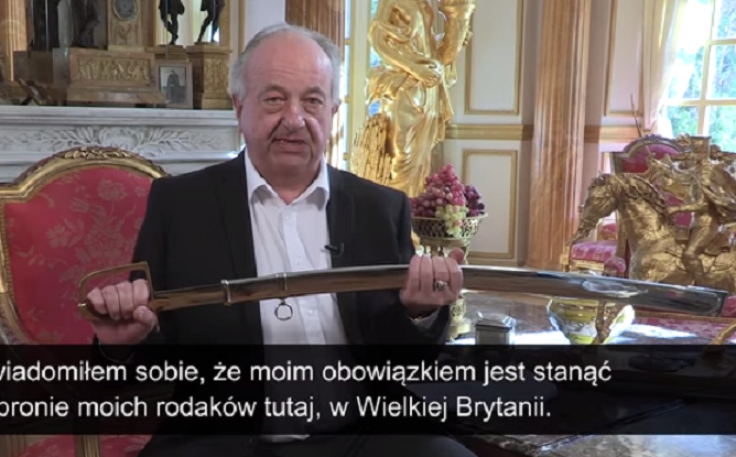 Drawing his ancestral sword and summoning the honour of Polish armed forces who were Britain's allies during the Second World War, an aristocrat challenges Nigel Farage to a duel over the Ukip leader's "idiotic" immigration stance.
The election campaign took an unusual turn when a self-proclaimed Polish prince called out Farage by offering to fight him in Hyde Park.
Addressing the Ukip leader via a video on YouTube, Jan Zylinski proclaimed he wanted to defend the honour of Poles living in Britain.
Farage's strong anti-immigration rhetoric has shaken up the political debate in Britain and garnered a high profile for Ukip. Farage is hoping to win the seat of South Thanet in Kent and become an MP; presuming he can avoid the duelling prince and his blade.
Condemning critics of immigration, Zylinski said: "The most idiotic example I've heard has been Mr Nigel Farage blaming immigrants for traffic jams on the M40. Enough is enough, Mr Farage. So what I'd like to do is offer you a duel.
"I would like to meet you in Hyde Park one morning and to resolve this matter in the way an 18<sup>th-century Polish aristocrat and an English gentleman would traditionally do. Are you up for it, Mr Farage? Do you agree?"
Zylinski does offer Farage an alternative to a sword fight in a throwback duel. In case the Ukip leader's blade "is a bit rusty", Zylinski makes the offer of a "duel of words" on the big issue.
Unfortunately for Zylinski, it appears there will be no opportunity to restore the national pride of Poland by taking down the Ukip leader. AP reported Farage declined the challenge of a duel.
© Copyright IBTimes 2023. All rights reserved.