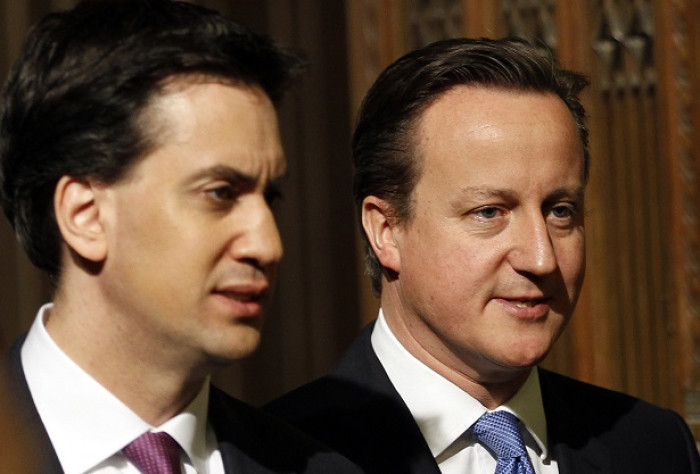 With the countdown to Thursday's general election now being measured in hours, Prime Minister David Cameron and Labour leader Ed Miliband are embarking on a final push to secure the votes required for an improbable overall majority.
With most polls still showing Labour and the Conservatives neck-and-neck, the overwhelming likelihood is that there will be a minority government in power from Friday morning. As neither leader wants that, the gloves are finally coming off and the fighting increasingly dirty – or desperate.
On Sunday (3 May) Cameron posted a Tweet asking voters to watch a surreal YouTube video in which an elegant timepiece was smashed to smithereens - a somewhat clumsy metaphor for what he believes will happen to the nation should Labour win. Comments on the video have been disabled.
Cameron then brought out his Conservative Party setpiece: a note left in the Treasury by Labour on leaving office which said, "there is no money" – which has proved a gift that keeps on giving for the Tories.
Cameron's message is simple: Labour stuffed things up, we put them right. Or as Lynton Crosby might put it, "It's working – don't let them wreck it."
Miliband's message was equally straightforward, its presentation equally bizarre.
Unveiling a limestone slab on which were written Labour's six key election pledges he promised to have it installed in Downing Street if Labour win. On social media the stunt was widely mocked, the stone described as Labour's tombstone.
As election day nears, both major parties seem to be staggering rather than sprinting towards the finish, using pointless props, endlessly warning the electorate about allowing the SNP/Ukip to run the country, and warning of economic Armageddon if the other lot scrape home.
For many in the media, this, the toughest election to call for a generation, is a source of endless fascination. For much of the electorate, the dawning of 8 May probably can't come soon enough – no matter who grabs the key to Number 10.
If this weekend's boxing bout between Floyd Mayweather and Manny Pacquiao is anything to go by, omens favour the Tories. Just as neither Mayweather nor Pacquiao could land a knock-out punch, neither can Cameron or Miliband. However, Mayweather, in the blue corner, defended brilliantly against his opponent in the red corner and walked away with the main prize.