The Tories and Liberal Democrats are fielding candidates in all 73 London seats at the general election but less than a third of their wannabe MPs are female.
An investigation from IBTimes UK found women make up just over 28% of the candidates for the government parties in the capital.
The research also revealed the Tories have a lower percentage of female candidates (27%) when compared to Nick Clegg's party in London (30%).
But the parliamentary hopefuls do include the likes of Lynne Featherstone (Ldm) and Theresa Villiers (Con), who both served in David Cameron's government.
A Liberal Democrat spokesman argued the party had done a "huge amount" to ensure it reflects modern Britain, citing the organisation's Leadership Programme and an increase in female candidates when compared to the last general election.
"This year's Parliamentary selections have seen a 5% increase in female candidacy when compared to the selections from the 2010 general election," he said.
"Party organisations that work to promote and support candidates from particular groups includes Liberal Democrat Women, who aim to ensure that all potential women candidates have all the encouragement, skills and support necessary to become effective parliamentary candidates, working closely with the Elections and Field and Candidates and Diversity teams at Lib Dem HQ.
"Some of our most prominent party members, such as party president Sal Brinton are female, and the party looks forward to increasing its female representation following polling day".
However, the data IBTimes UK uncovered showed the Greens have far more female candidates than the government parties and account for 49% of its candidates in the capital.
Labour, unlike the Greens, does use all-women shortlists (AWSs) and 43% of its candidates in London are female.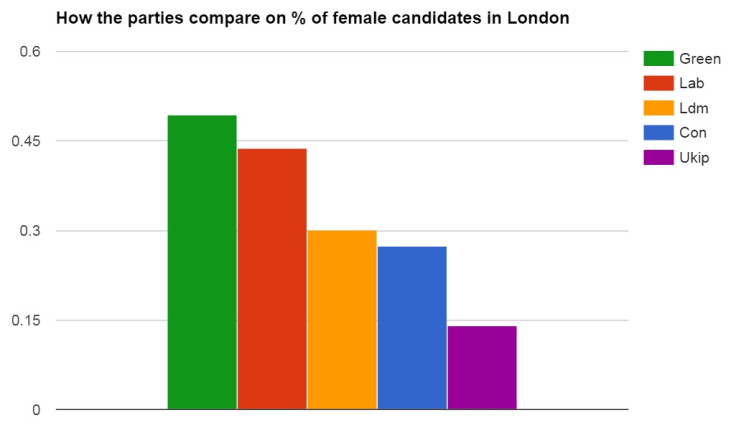 Time to reform?
Darren Hughes, deputy chief executive of the Electoral Reform Society, told IBTimes UK the parties are making "slow progress" on the issue of gender equality.
"Parties are making some progress, albeit slow, towards gender equality when it comes to parliamentary candidates. Our research suggests there will be around 44 more female MPs in the next parliament as a result," he said.
But Hughes argued the voting system needed to be overhauled to enable more women to get into politics. He said: "The existence of safe seats is so widespread that it acts as a block against changing the gender make-up of parliament.
"If there is one thing which would do more for female representation than anything else, it's having a fairer, more proportional system for electing our MPs."
The IBTimes UK study also found Ukip ranked at the bottom of the main political parties, with just 14% of female candidates in the capital.
A spokesman for the Eurosceptic party said the organisation is "exclusively built on merit" and the purple outfit refuse to "fake it" over gender equality.
"Ukip is proud of the fact that it has the largest number of women elected to the European Parliament, its manifesto was authored by Suzanne Evans our deputy chairman and sees women in positions of authority across the party," he said.
"As a party that is exclusively built on merit, while we would be delighted if more women brought themselves forward, we cannot and will not fake it. Things are getting better, they will continue to do so, but we will not patronise women and other groups just to look good to an out of touch elite."
In addition, the research revealed some London constituencies had no female candidates for the general election. Eltham and Lewisham West and Penge, seats won by Labour in 2010, are just two such examples.
The Conservatives had not responded to a request for comment at the time of publication.