Election 2016: Republican Donald Trump reveals immigration policies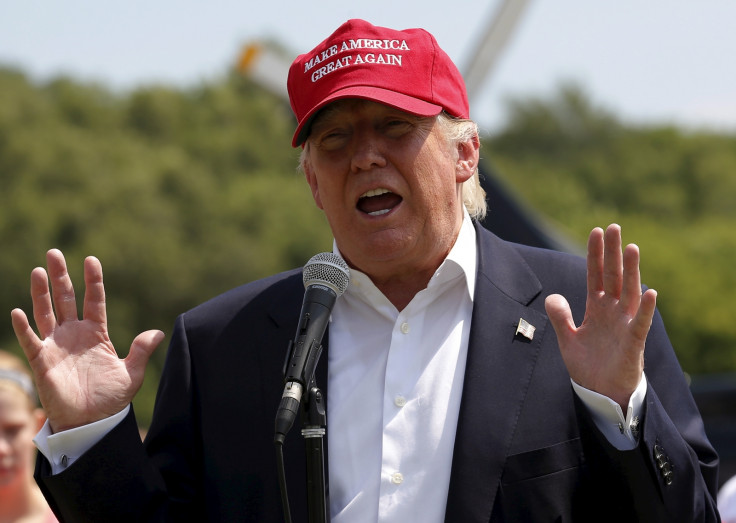 Republican presidential front-runner Donald Trump has finally revealed his policies on immigration, a central issue of his campaign. Trump released a policy paper on immigration and told NBC's Meet the Press on 16 August that he would deport all undocumented immigrants from the US if elected.
"We're going to keep the families together, but they have to go," he told NBC's Chuck Todd. When asked what would happen to immigrants who do not have somewhere to return to, Trump responded, "They have to go."
He added, "We will work with them. They have to go. Chuck, we either have a country, or we don't have a country."
In his policy paper, the 69-year-old candidate also calls for an end to birthright citizenship, which would be in direct contradiction to the US Constitution's 14th Amendment. Trump said birthright citizenship "remains the biggest magnet for illegal immigration."
The Republican presidential contender said he would rescind President Obama's executive order offering young DREAMers deportation protection. "We have to make a whole new set of standards" for those immigrants, Trump said.
Trump also reiterated his commitment to build a wall on the border between the US and Mexico and have it paid for by the Mexican government. His policy paper details what the US would do "until they [Mexico] do [pay for the border wall]":
Impound all remittance payments derived from illegal wages; increase fees on all temporary visas issued to Mexican CEOs and diplomats (and if necessary cancel them); increase fees on all border crossing cards - of which we issue about 1 million to Mexican nationals each year (a major source of visa overstays); increase fees on all NAFTA worker visas from Mexico (another major source of overstays); and increase fees at ports of entry to the United States from Mexico [Tariffs and foreign aid cuts are also options]. We will not be taken advantage of anymore.
According to Reuters, the 1994 NAFTA agreement ended most tariff and other impediments to free trade and investment between the US, Canada and Mexico.
His new position paper also states Trump would triple the number of Immigration and Customs Enforcement (ICE) officers. He would fund this increase by eliminating tax credit payments to undocumented immigrants.
NBC News reported that under a Trump presidency, "sanctuary" cities would also face being defunded if they do not cooperate with federal immigration round-ups.
Trump's policy paper on immigration already has some Latino and immigration advocacy groups speaking against his plans.
Latino Decisions tweeted, "'They all have to go' says @realDonaldTrump but 89% of Latino voters support Obama exec action to keep families together IN THE US." The Latino pollster added, "80% of Latino voters will oppose any effort to rescind Obama immig executive order and @realDonald Trump says 'we have to' rescind".
© Copyright IBTimes 2023. All rights reserved.