Sir Elton Hercules John will perform live at the ruins of Pompeii, the ancient Roman city that got buried under volcanic ash in 79AD. The performance, a part of his most recent tour, will be held in summer.
Elton will host the concert at the archaeological site for his Wonderful Crazy Night tour on 12 July, according to an online ad by Italy-based creative agency D'Alessandro e Galli. The ad copy reads: "Elton John in the most picturesque of the scenarios. July 12 Pompeii."
Pompeii and another ancient Roman city called Herculaneum on the coast of the Bay of Naples in southern Italy fell prey to huge eruption of Mount Vesuvius in 79AD. Tons of ash and pumice from the volcano covered the entire cities, their settlements, people, animals and objects, literally freezing them in time within a mere 24 hours of eruption. The remarkably preserved ruins were discovered in the 16th century and now provide an insight into Roman life in the first century.
Pompeii had a complex society, including an amphitheatre and two other theatres, a gymnasium as well as a port. Elton is most likely to perform at the amphitheatre, which has been described by experts as a wonderful ancient model of "sophisticated" design to manage crowd.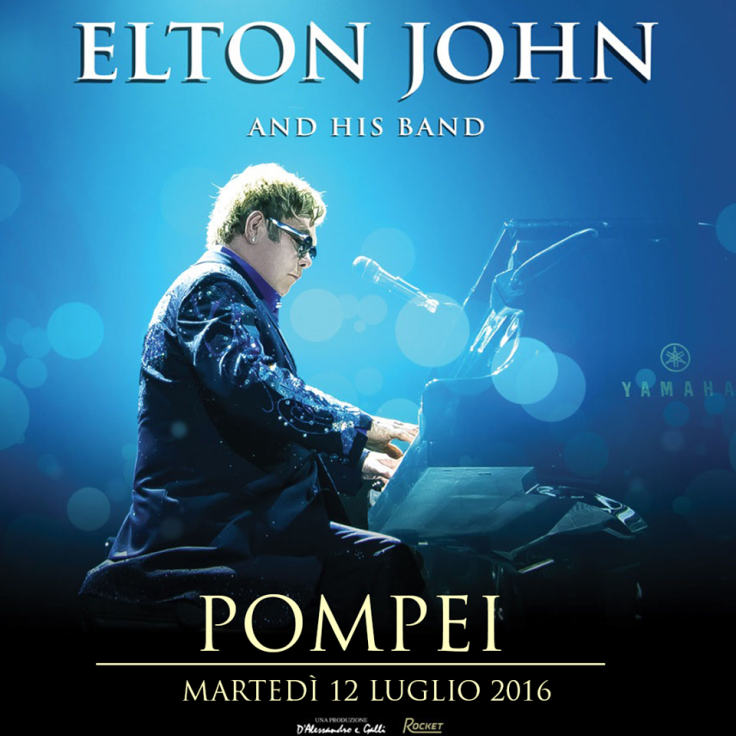 Elton has held more than 4,000 performances in more than 80 countries since the beginning his career in 1969. He is known to have performed at famous spots, including Westminster Abbey during Princess Diana's funeral in 1997 and Buckingham Palace during the Queen's Diamond Jubilee celebrations in 2012.
Pompeii will be the singer's first such-of-its-kind concert at an archaeological site and probably in an ancient Roman amphitheatre.
However, Sir Elton is not the first singer to perform at the Pompeii ruins. Rock band Pink Floyd recorded six songs for their live concert film Pink Floyd: Live at Pompeii in the amphitheatre of the ruined city in 1971.
While their audience consisted only of the film's production crew and some local children, Elton's event is definitely going to be the first broader public concert to be held ever at Pompeii.