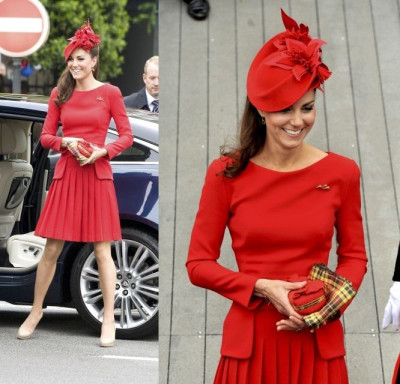 Kate Middleton, who has often repeated her wardrobe choices for public occasions without ever really losing her status as an absolute style and fashion icon, showed of a surprisingly bold style statement during the Queen's diamond jubilee pageant on the River Thames, on Sunday.
The Duchess of Cambridge chose a vibrant red Alexander McQueen creation, outshining all those around her and... crucially, the Queen too, who was content with a simple white outfit. It seemed odd, given Kate's usually perfect sense of fashion and the moment, the Duchess chose so bright an outfit for a day dedicated to the Queen. Kate opted for a sleek silver bracelet and a maritime-themed brooch featuring two silver dolphins.
Kate Middleton's pleated Alexander McQueen dress was topped with a strikingly scarlet hat and a red leather clutch, both of which only served to further highlight the Duchess, as the Royal family, led by the Queen, travelled down the River Thames in a 1,000-strong flotilla meant to honour Her Majesty's diamond jubilee weekend.
The Royal family was aboard a golden barge and, together the flotilla travelled 11km down the River Thames. The event was one of the largest flotillas of its kind ever seen on the river. Also on board were the Duke of Edinburgh, the Prince of Wales, the Duchess of Cornwall and Princes William and Harry.
Although Kate Middleton's dress and fashion statements have always been under scrutiny whenever she steps out in public, the Duchess was not expected to be sporting so bold a dress for the Queen's diamond jubilee Pageant.
While most of the other members of the Royal family were dressed in white or other light-hued dresses, Kate Middleton's red dress caught the attention of authoritarian fashionistas and cynics, who will jump at the question - Did Kate Middleton really steal the limelight from the Queen on a day dedicated to the latter's memory by wearing a captivating red dress?
We should, however, also ask if Kate Middleton does actually need to wear so bright and arresting an outfit to endear herself to the people? Check out the slideshow and find out.
Related Slideshows
Diamond Jubilee Weekend: From Queen Elizabeth II to Queen Victoria, Five Most Favourite British Monarchs of All Time
When the Queen was Only a Princess: Rare and Unseen Photographs from 1940s of Princess Elizabeth Released to Mark Diamond Jubilee Weekend
Queen's Exquisite Diamond Heritage of over 200 Years to go on Show for Jubilee Gala