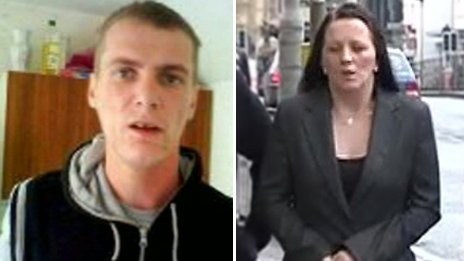 A man from Peterborough has been found guilty of kicking and biting his partner's five-year-old son to death at Cambridge crown court.
Elvis Lee, 34, beat Tyler Whelan until he collapsed at his home in Paston, he died in hospital in March 2011.
Tyler's mother, Stephanie Whelan, 27, was also convicted of causing or allowing his death.
He died as a result of "blunt force trauma" to the head and abdomen and was the last of four admissions to hospital.
Social services were called in June 2010 after doctors were concerned about the boy breaking his leg, however, they concluded that no further action should be taken.
At the time of his death Tyler had 18 injuries to his face and neck, 17 to his body, 10 to his arms and hands, and 13 to his legs, including a human bite mark.
Whelan said in a statement that she thought her son had died of "normal" circumstances and was told in court that Lee may have been responsible for her son's death.
She said: "If he's the one that hurt my baby, I want him dead.
"My little boy didn't deserve it. He was so special, he was my rock.
"All week Elvis has been comforting me over my loss. How can he comfort me if he did it?
"I fell in love with this man and we were the only ones in the house with Tyler.
"He was always so nice to the kids. Why would he hurt my baby?"
The two adults were cleared of two counts of cruelty or neglect in relation to an incident where they failed to seek medical advice on a previous occasion.
Lee, who has a history of anger related problems, was found guilty of murder. Both defendants denied all charges against them.