ExxonMobil, the world's largest public-listed international oil company, is taking US president Donald Trump's administration, in which its former boss Rex Tillerson serves, to court.
The US Treasury Department slapped Exxon with a $2m (£1.54m) fine late on Thursday (21 July) for "reckless disregard" of state sanctions in its dealings with Russia's Rosneft in 2014, when current Secretary of State Tillerson was its chief executive.
The fine followed a US review of deals Exxon signed with Rosneft, Russia's largest oil producer then headed by President Vladimir Putin's confidant Igor Sechin.
According to the Treasury's Office of Foreign Assets Control (OFAC), between 14 May and 23 May, 2014, top US-based Exxon executives signed eight documents with Sechin, just weeks after Washington imposed sanctions on Moscow for annexing Ukraine's Crimea region, by which time the influential Russian had been blacklisted.
The Treasury added that Exxon had "demonstrated reckless disregard for sanctions requirements."
However, Exxon has since hit back with a lawsuit describing the fine as "unlawful" and "capricious", despite the fact that $2m-fine would be paltry for a company which made $7.84bn in headline profit in 2015-16.
Describing the Treasury's action as "fundamentally unfair", Irving, Texas-headquartered Exxon has filed a 21-page complaint against the fine arguing that Sechin "was subject to sanctions only in his individual capacity."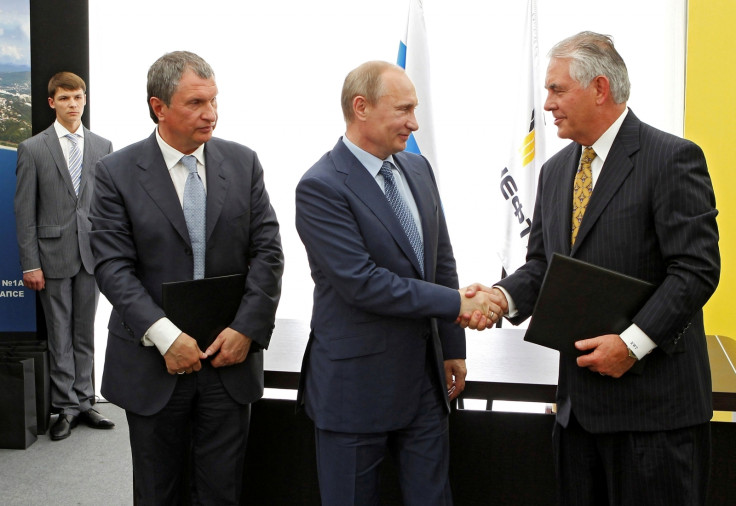 It added that guidance from the Obama administration at the time had made clear the sanctions "applied only to the 'personal assets' of the sanctioned individuals and emphasised that the sanctions did not restrict business with the companies those individuals managed."
Majority Russian state-owned Rosneft, in which Exxon rival BP has 10% stake, is subject to narrower US sanctions that still permit American citizens to deal with the company on a transaction specific basis.
Exxon's lawsuit provides the embarrassing potential for a clash between the Trump administration in which its former boss Tillerson heads the State Department, incidentally has been a vocal critic of the Kremlin.
Tillerson, who left Exxon in 2016 to become Secretary of State after 10 years as the boss of Exxon, is the US' top diplomat. He said in January 2017 that he would recuse himself from matters involving Exxon for one year after his December 2016 resignation, unless he is asked to participate.
The State Department has referred all questions about the fine to Exxon and the Treasury, while latter has it "did not discuss this case with Secretary Tillerson."
"The Treasury is trying to retroactively enforce a new interpretation of an executive order and we believe OFAC's action is fundamentally unfair," an Exxon spokesperson added.
The ongoing Treasury versus Exxon tussle over the 2014 dealings has spanned both the Obama and Trump administrations, and started with a subpoena from OFAC to Exxon in July 2014, according to court documents.