Archaeologists have discovered a mummified foetus in L'Aquila, Abruzzo in central Italy that shows signs of having undergone embryotomy, an ancient surgical procedure that involves dismembering a dead foetus while it is still in the womb.
Records of embryotomy being practised date back to the Romans in first century AD, and evidence of the practice has been found in Dorset, England in 4<sup>th century AD and from the Aztec Empire (14<sup>th-16<sup>th century AD), which believed in saving the woman's life over the baby's.
The practice was widely used in many countries to help remove a dead foetus from a woman's womb more easily until the late 19<sup>th century, when gynaecological advances improved and caesarean section replaced it.
In 2009, a devastating earthquake measuring a magnitude 6.3 occurred in L'Aquila, resulting in 309 deaths and a great deal of damage to buildings in the area.
Archaeologists from the State University "G. d'Annunzio" of Chieti-Pescara, Italy discovered the mummy as part of a cache of mummified human bodies discovered beneath the historical St. John the Evangelist church in the village of Casentino, when the church's floor partially collapsed.
Their research, entitled Embryotomy in the 19th Century of Central Italy, was published in the International Journal of Osteoarchaeology in August.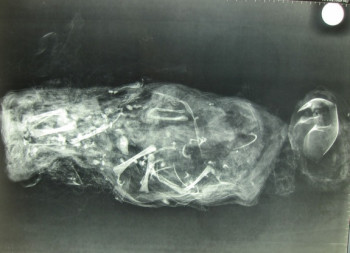 The foetus was aged 29 weeks. When x-rayed, the researchers discovered that its skull had been dissected in several places and disconnected from the spine, and its arms had been separated at the joints from the rest of body.
As none of these practices typically occurs during a post-mortem examination, Professor Ruggero D'Anastasio of University Museum at University of Chieti told Live Science that these signs of an operation "strongly suggest a case of embryotomy" and that the mummy "is the only anthropological proof of this surgical practice up to now in this geographical region".
D'Anastasio said that ancient physicians usually performed this procedure only in severe cases when a woman's life was threatened due to delivery complications, or when the foetus was already dead in the womb, but this is not always the case.
"Some authors reported that embryotomy was the most extreme method of abortion during the medieval period," the researchers write in the paper.
The researchers also wrote that they were surprised to see that physicians with a high level of skill worked in the village Chieti, which is a "very little and peripheral village" and said that the body had been very carefully prepared for death.
"The recomposition of the cut-up body and its perfect dressing indicate high sense of pity for the death and for children never born," they wrote.