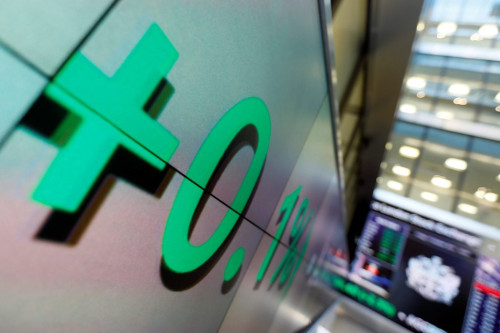 Britain's benchmark equity index average inched up on 28 January, buoyed by a key technical support after it dropped for five straight sessions, as companies exposed to emerging markets were comforted by easing tension.
The FTSE 100 rose 21.88 points, or 0.3%, to 6,572.54 points just before noon, rebounding from technical support at the 200-day moving average of around 6,556.64 points.
Emerging-market assets stabilised after falling for three straight days, renewing investor confidence in dicey global assets; and consoling investors worried that companies would be hit by falling demand, higher competition and unfavorable exchange rate movements.
London Trade
The London market witnessed thin trade on 28 January with investors exercising caution ahead of the US Federal Reserve's monetary policy decision, due out on 29 January.
The Fed is expected to press on with a plan to trim its monetary stimulus, a move which could further hurt liquidity-dependant emerging market economies.
Aberdeen Asset Management, which invests around a third of its equities funds and 14% of its fixed-income portfolios in emerging markets, led the FTSE gainers with a 3.4% jump.
Miners, heavily dependent on demand from emerging markets such as China, also gained.
Rio Tinto jumped 2.3% while Anglo American gained 1.7%.
2013 Earnings Season
In addition to emerging-market fears, market participants have also been worried about the 2013 earnings season and whether it would throw up profits strong enough to defend relatively high valuations.
Mexico-focused miner Fresnillo dropped 2.9% on 28 January after it reported a drop in gold production.
Chip producer ARM lost 2.4% after tech giant Apple reported lower iPhone sales. ARM chips are used in Apple products.
"The 200-day moving average (on FTSE) coupled with rising trend line support from the June 2012 lows is providing a decent buy-on-dips level," Brenda Kelly, an analyst at IG Markets told Reuters.
"Clearly, the jury is out on whether this current bounce is merely a relief rally ahead of the FOMC statement [on 29 January], where the consensus expectation is for an additional shaving of $10bn to the current QE programme," Kelly added.
Standard Chartered said in a note to clients: "The US Federal Open-Market Committee (FOMC) has its first meeting of the year on 28-29 January (decision at 14:00 ET on 29 January; no press conference), this is also Ben Bernanke's last meeting as Chair."
"We expect the FOMC to deliver on Bernanke's strong hint at December's meeting that further 'measured' cuts would continue at subsequent meetings; we see the Fed reducing QE by $10bn to $65bn," the British bank added.
FTSE Drops
An emerging markets sell-off dampened investor sentiment across Europe on 27 January, when British firms BG Group and Vodafone led UK stocks lower.
BG sank 15% in London trade after it warned that its oil-and-gas output for 2014 would be lower than previously forecast.
Earlier on Monday, Vodafone plummeted some 6% after American firm AT&T put market speculation to rest by saying that it does not intend to buy out the group.
Emerging markets led a global sell-off on Monday after foreign investors shed their exposure to risky assets in those markets.