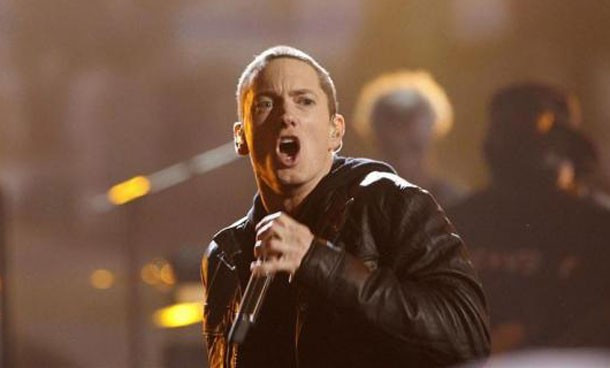 Eminem has provoked the wrath of thousands of fans after threatening to rape Iggy Azalea in a new rap song.
The 42-year-old hip hop star, who has three daughters, let his violent and misogynistic side loose on the disturbing track entitled Vegas, from the forthcoming Marshall Mathers' band Bad Meets Evil with Royce da 5'9″collaboration.
In the snippet posted online he graphically depicts dragging the Fancy hitmaker by his Humvee before sexually assaulting the 24-year-old.
He raps: "B****, shut the f*** up and get in my car. And suck my f***ing d*** while I take a s***. And I think with my d*** so come blow my mind. And it tastes like humble pie.
"So swallow my pride, you're lucky just to follow my ride. If I let you run alongside the Humvee. Unless you're Nicki, grab you by the wrist, let's ski. So what's it gon' be? Put that s*** away Iggy. You don't wanna blow that rape whistle on me. Scream! I love it. 'Fore I get lost with the gettin' off."
The controversial verse left fans shocked with many taking to social media to express their anger and disbelief that he would callously promote violence against women.
"Eminem scares me. He's talking about raping Iggy Azalea in his rap songs, etc. Just all kinds of wrong imo," one said.
Azalea is not the first famous women to fall victim to Eminem's' venom.
Earlier this month, the Slim Shady star threatened to punch singer Lana Del Rey.
"I may fight for gay rights, especially if they dyke is more of a knockout than Janay Rice/Play nice?" he rapped in a freestyle video.
"Bitch I'll punch Lana Del Rey right in the face twice, like Ray Rice in broad daylight in the plain sight of the elevator surveillance/'Til her head is banging on the railing, then celebrate with the Ravens."
The Detroit native is currently promoting his Shady XV compilation album, which is set for release on 24 November.