Eminem is busy working on his much-anticipated new album with longtime mentor Dr Dre at the helm, leaving fans excited for what is in store.
New music from the Stan rapper has been a long time coming. His last album, The Marshall Mathers LP 2, was released back in 2013. Providing a glimmer of hope, it has been revealed Dr Dre is producing songs for Eminem's ninth album, putting the hitmaking duo together for the first time since 2011.
Director Allen Hughes, who masterminded Dr Dre's recent HBO documentary The Defiant Ones, told UpRoxx: "Dre still records. People don't know this but Dre records every day.
"Literally, he's in there recording songs every day, he's like Picasso in that way. He's always painting. Right now he's producing, in the 11th hour, a track for Eminem's latest album. So Dre's still real active in music, you know?"
With the Real Slim Shady's new album possibly imminent, here is everything we know about the record so far.
Release date
Details on the album title and release date are sketchy at the moment. But it could potentially arrive before the end of July or sometime in August to coincide with Eminem's headline performance at Reading & Leeds Festival on 26 and 27 August.
A similar move happened when Jay-Z booked himself to headline V Festival in the UK initially without any new music – only to drop 4:44 by surprise in June.
Collaborations
2 Chainz confirmed he has recorded a remix to a track with the Detroit legend, telling DJ Drama on Shade 45: "He didn't want to talk about nothing but rapping. That was a great phone call to get. I've heard it all, you know what I'm saying? I've heard it all. You know, this like rap talk. It's like, you see a rapper in the club and you're like, 'Let's do one'. It's cap, you know what I mean?"
The Mercy rapper continued: "So you know, he's like, 'The boy wanna do something with you'. And I'm like, 'Whatever'. I tell him straight up... Eminem, what would you need a remix for? Remixes are used to carry records to number one spots. When have you ever did a remix for someone or for yourself? That's cap at it's finest."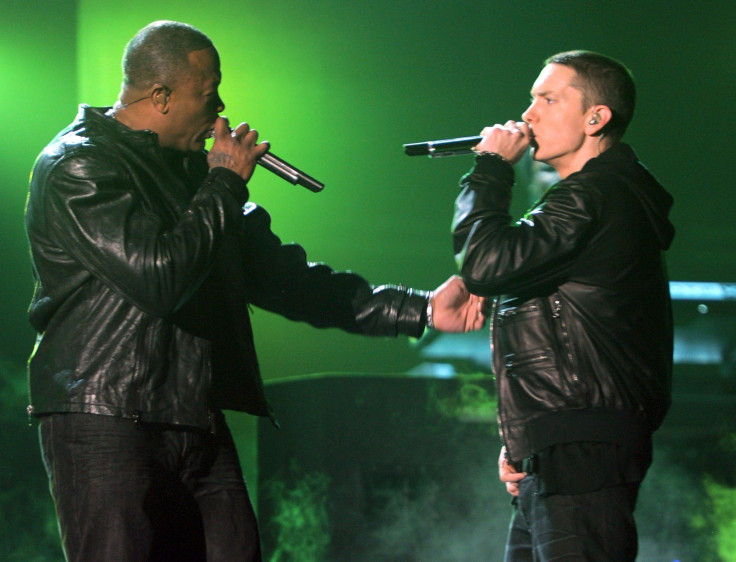 Eminem is also rumoured to be recording with Nicki Minaj after the Anaconda rapper said she was open to doing a follow-up to their epic 2010 hit Roman's Revenge. Minaj told Hot New Hip Hop: "I never thought about that, but you know what? That's a dope idea. Of course I worked with Em on my first album, and of course I love Em...That would be nice, that would be beautiful."
In recent months, Eminem, 44, has also been pictured hanging out with Kendrick Lamar and Drake, so these collaborations are also a possibility.
Tracklist
In late 2016, a tracklist reported to be for a new Eminem album began circulating on Reddit. The sheet listed collaborations with the likes of Chance The Rapper, The Weeknd, Adele, Kid Cudi and Vince Staples, but it was later revealed to be fake.
Details on specific songs are sparse although Eminem has dropped several one-off tracks in the past year, including the Campaign Speech freestyle and a track with Big Sean, No Favors. The rapper did promise fans in October 2016: "Don't worry I'm working on an album!" so keep your eyes and ears peeled.
Listen to Big Sean and Eminem's No Favors: