On Monday 8 January, Heba Amouri left her home in the Damascus suburb of Kafr Batna with her two malnourished children, heading for a nearby market. They never made it; a mortar shell landed close to them, killing her two-year-old son Emir instantly.
"My child died hungry. We wanted to feed him. He was crying from hunger when we left the house," she told Reuters as she held his body in a medical centre in Douma, in the besieged eastern Ghouta area on the outskirts of the capital.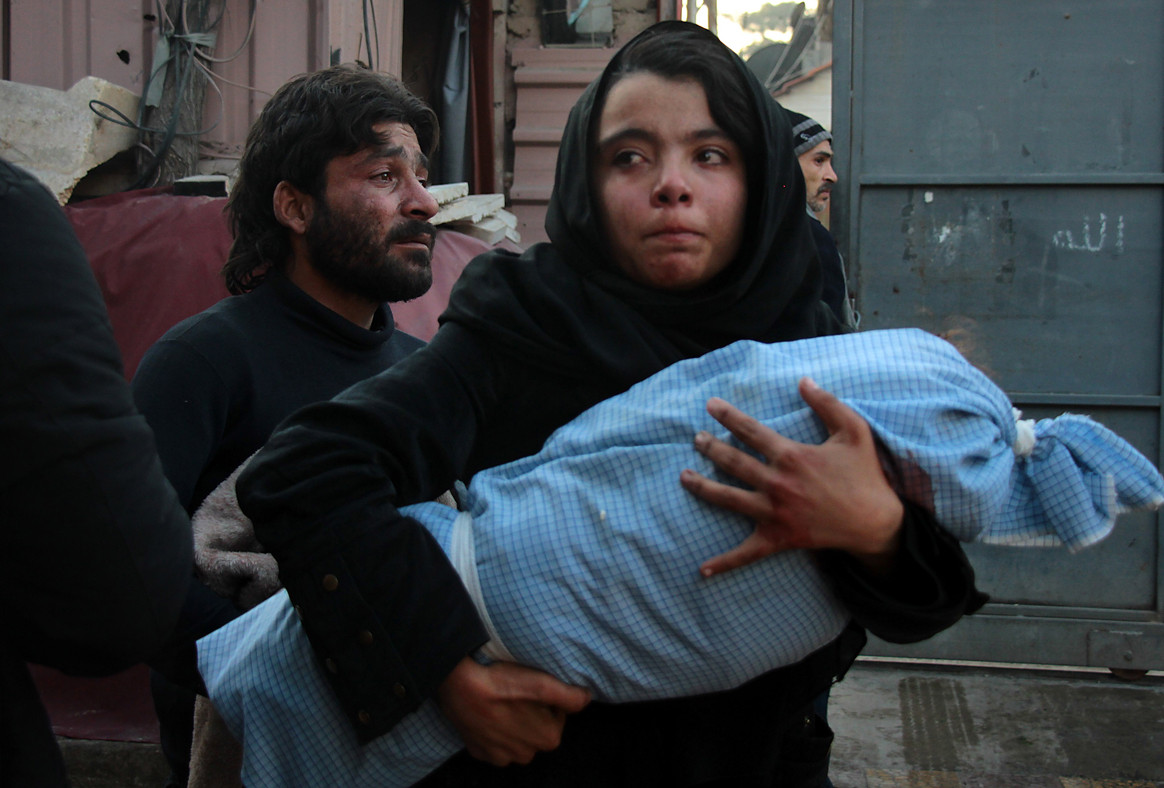 Eastern Ghouta is the last big rebel stronghold near the capital Damascus and has been besieged for years. A year ago, the family lost another son to the bombardment of the region. Mahmoud al-Bash, 27, Emir's father told Reuters: "Now I lost my second child. My baby daughter is the only surviving child."
Heba is too malnourished to produce any milk to feed their baby daughter. When the hungry two-month-old girl cries, all her mother can do is try to comfort her by placing a finger in her mouth.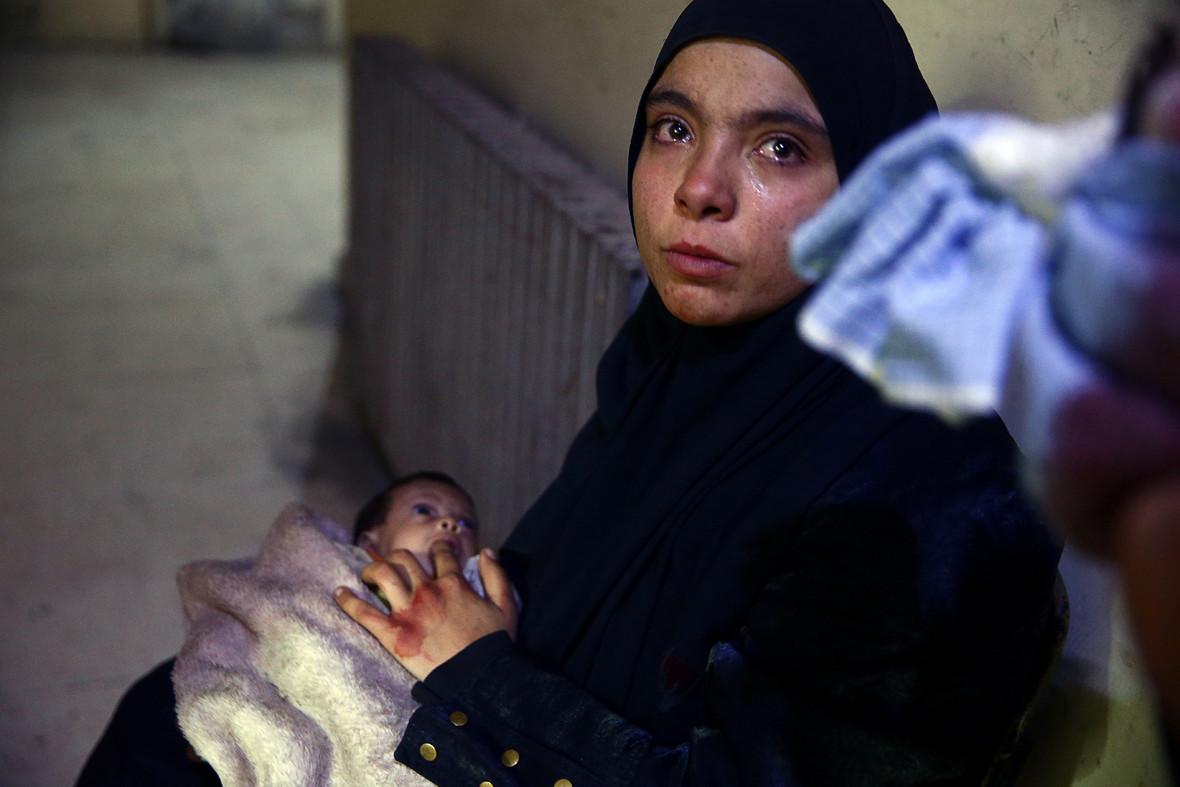 On Monday evening (8 January), Emir's father carried his son's tiny body wrapped in a cloth, marked with a big blood stain, to the local cemetery. "May God protect the children, and everyone, and take the life of Bashar (al-Assad)," he said, as he bid his son a last farewell.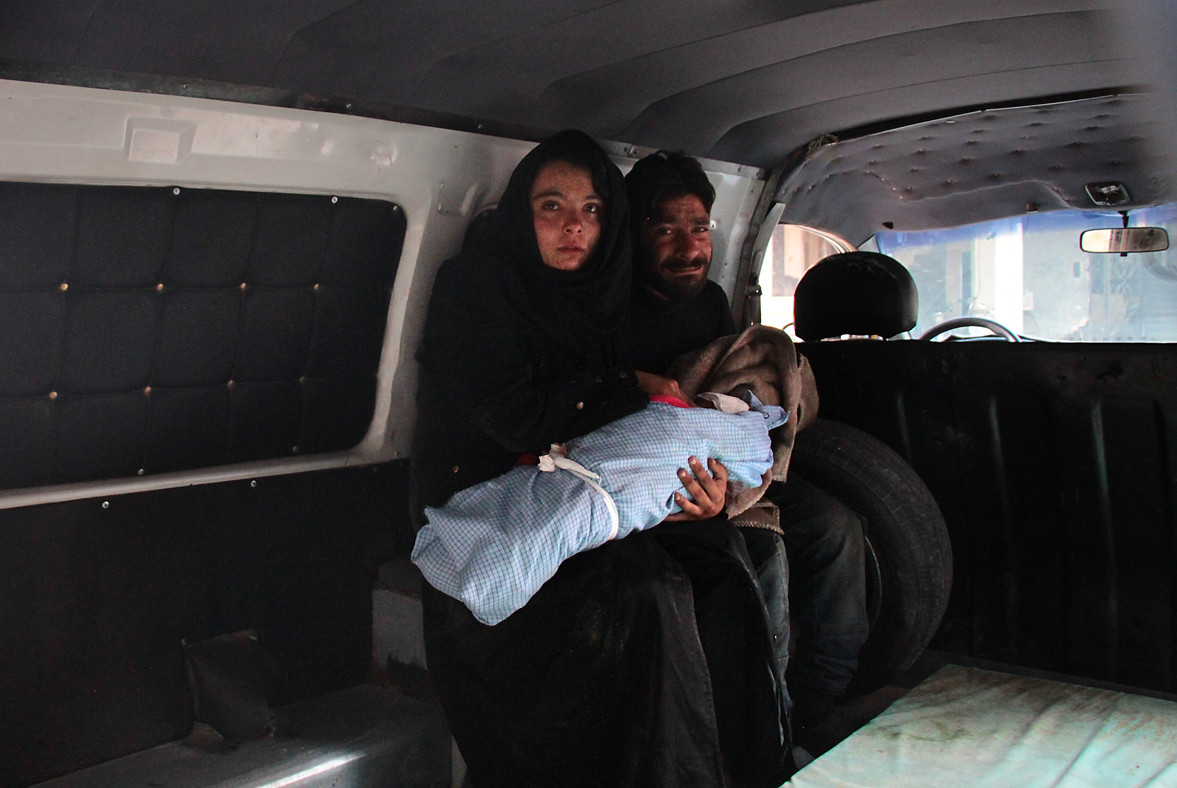 Emir was one of six children killed by Syrian and Russian air strikes on Eastern Ghouta on Monday. The International Committee of the Red Cross has said it is alarmed by the ongoing violence in Eastern Ghouta and the growing number of civilian casualties and displacement since the start of the year. The UK-based Syrian Observatory for Human Rights said that since 29 December, 126 people have been killed in air strikes in the region, including 29 children.
Local photojournalists have documented several air strikes in Eastern Ghouta since the start of this year. IBTimes UK shares some of their photos.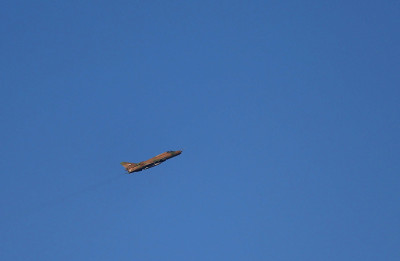 Backed by Russian air strikes, government forces have escalated military operations against Eastern Ghouta in recent months, seeking to tighten a siege that residents and aid workers say is a deliberate use of starvation as a weapon of war, a charge the government denies. The UN envoy to Syria, Staffan de Mistura, called the Eastern Ghouta blockade and others like it a "medieval" approach to war. Amnesty International has called the government's use of sieges against civilians — a tactic it called "surrender or starve" — a crime against humanity.
Humanitarian officials warn that conditions outside Damascus have reached crisis levels, with the government maintaining a siege on the Eastern Ghouta suburbs that has trapped around 400,000 people – including 130,000 children – without enough food, fuel or medicine for the winter. The United Nations children's agency said in November 2017 that 11.9 percent of children under five in eastern Ghouta are suffering from acute malnutrition. Mothers of infants had reduced breastfeeding or stopped it altogether because of their own poor nutrition, Unicef said.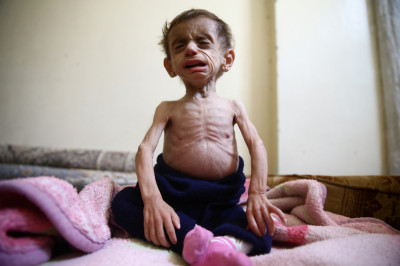 Children with wrinkled faces and arms like sticks are going hungry or dying because of the ongoing war. According to the UN, roughly one in eight children are malnourished in Eastern Ghouta — a shocking jump from one in 50 in May. "We have people here who are only eating a meal every two or three days," Ismael Yasin, a member of Eastern Ghouta's local council told The Associated Press via Skype. "People's faces are turning yellow from hunger."