Harry Potter star Emma Watson is all grown-up now... and the 22-year-old leaves her fans in no doubt about her sensuality. The Paris-born actress is on the cover of British GQ's May issue as Nicki - her character from Sofia Coppola's forthcoming film The Bling Ring.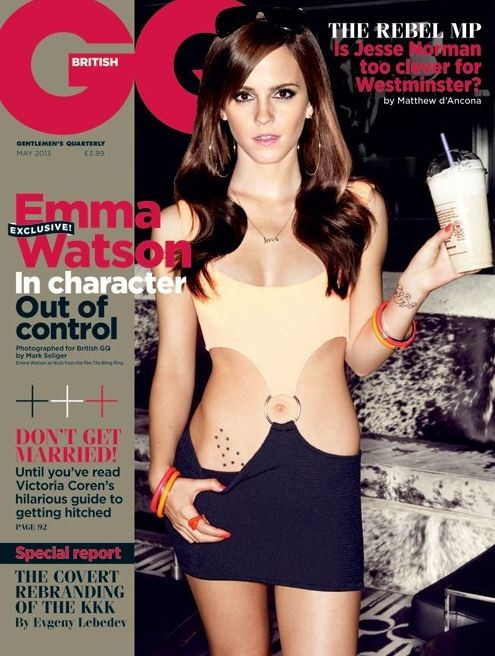 Coppola's crime drama is based on series of real life events that involved a group of teenagers who robbed celebrity residences (including those of Pirates of the Caribbean star Orlando Bloom and hotel heiress Paris Hilton) between 2008 and 2009.
"When I read the script and I realised that essentially it was a meditation on fame and what it's become to our society, I had to do it," Watson tells GQ in the accompanying interview, "The character is everything that I felt strongly against - she's superficial, materialistic, vain, amoral. She's all of these things and I realised that I hated her."
"How do you play someone you hate? But I found it really interesting and it gave me a whole new insight into what my job, or my role as an actress, could be," Watson explained.
Watson rose to the fame on the back of her role as Hermione Granger, in the Harry Potter series of films and has been working hard to divest herself of those associations and create a new professional identity... one of a more mature actress.
"Really I was open-minded about doing anything, but the one thing I didn't want to do was get myself into a corset because I was worried I'd never get out again," she revealed, "I knew it would be a really comfortable thing to do, but I felt... I had to dive into something really different. This has been a really big departure for me; it's a really big character. That's so exciting for me because it meant I was really acting."
The Bling Ring is expected in theatres by 14 June.
Meanwhile, the Perks of Being a Wallflower actress shot down rumours she will play the role of Anastasia Steele in the film version of EL James's best-selling book, Fifty Shades of Grey.
British GQ's May issue is available on newsstands from 4 April.