New French President Emmanuel Macron and German Chancellor Angela Merkel have pledged to deepen ties within the European Union (EU) in the wake of Brexit with a "historic reconstruction" of the bloc.
The pair want to draw up a new "road map" for Europe that could see potential treaty changes in an attempt to make the eurozone more resilient to global crises.
Macron, on his first full day as president, was in Berlin on Monday (15 May) a day after he pledged to "relaunch" Europe at his inauguration, with a joint budget, parliament and finance minister.
Although these ideas where not expressed by Macron or Merkel as they addressed the world's press they did say they would work together more closely on defence, reform and reducing bureaucracy.
Merkel said the pair had a "joint conviction that we are not only going to deal with the British exit from the European Union, but we also need to deepen the EU".
Speaking of the widespread reforms suggested by Macron she said it may be possible to change EU treaties as would be required to enact them.
"From the German point of view, it's possible to change the treaty if it makes sense," Merkel added reported the BBC. "I would be ready to do this, but first we will work on what we want to reform."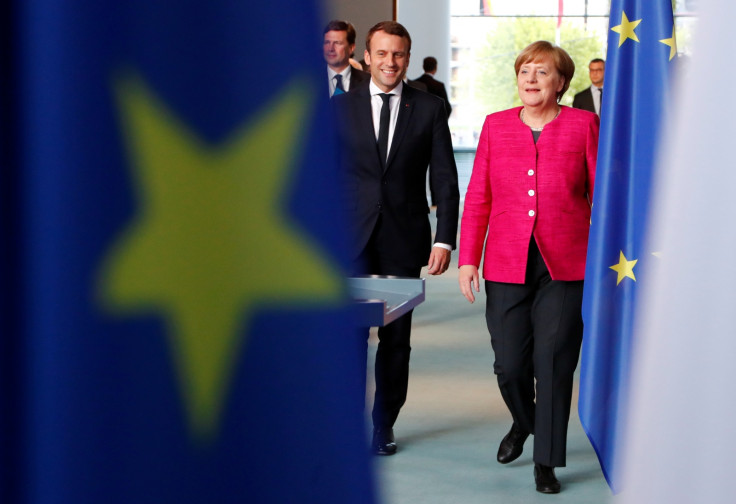 And Merkel hailed Macron's win in France saying that he carried "the hopes of millions" in Europe.
Macron said a reconstruction of the bloc was "the only reaction" to fight populism adding: "We need more pragmatism, less bureaucracy and a Europe that protects our citizens," he said.
On Sunday Merkel's ruling centre-right Christian Democratic Union party (CDU) won the most populated German state of North-Rhine Westphalia in what is seen as a key indicator for September's federal elections.
Earlier on Monday Macron kicked off his five-year mandate by appointing Édouard Philippe, a moderate centre-right legislator, as the country's new prime minister.