England boss Roy Hodgson has criticised Slovakian referee Ivan Kruzliak for the yellow card shown to Manchester United striker Danny Welbeck. Hodgson's men ran out comfortable 4-0 winners over Moldova at Wembley on Friday night, in a critical qualifying fixture for the 2014 Fifa World Cup in Brazil.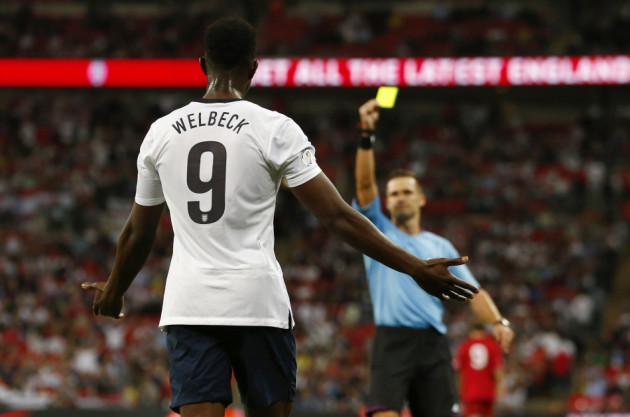 However, despite all the elation, the caution handed to Welbeck means the 22-year-old will be suspended for the midweek fixture against Ukraine. Defeat in that tie could leave England very precariously poised in Group H; Montenegro and the 2012 European Championships co-host are both within a point of England, with the Montenegrins trailing only by goal difference.
"I don't think there'll be too many people, even in the refereeing fraternity, who will say that was a clear yellow card. A 40-yard sprint, a ball that arrives on your foot, a split second between the whistle blowing and the shot... You'll have to try very hard to persuade me that was a booking," the former Inter Milan and Liverpool boss said.
Hodgson's problems are exacerbated by the absence of a number of other senior strikers. Daniel Sturridge, Wayne Rooney and Andy Carroll are all unavailable, while Tottenham's Jermain Defoe is not fully fit.
The ban for Welbeck leaves only Southampton's Rickie Lambert as a specialist striker, meaning Hodgson may be forced to play Arsenal's Theo Walcott up front or, possibly, even Manchester United winger Ashley Young.
"The booking overshadowed the win, that's for sure. We were already very short of front players anyway and the suspension comes as a second booking when the first he received was when we thought we should have had a penalty in Montenegro [in March]. The referee booked him for diving. It doesn't get much more unfortunate than that. But we're getting used to dealing with misfortune," Hodgson complained.
There is some good news though, with reports that Liverpool star Sturridge could recover in time for Tuesday's game.
"It's under a week since he finished against United and five days since the scan on the thigh strain. You need seven to eight days with that injury, so it's not impossible. We shouldn't give up hope. But is it more than 50-50? Definitely no. I would even fear it's worse odds than that," Hodgson concluded.