I have been to many places to watch football, some more friendly than others. From the moment you got off the train in Marseille you could see you're not welcome. Yes, England fans have a bad reputation from incidents in the past and still have a few muppets that follow them. But this was different.
These were gangs of local youths and Russians both before and after the game looking to provoke and going for families, or anyone they believed to be English. On arrival I saw a bunch of Russians attacking a group of locals outside a bar. One England fan, after I walked out of the station chased after me to advise me to walk in the other direction.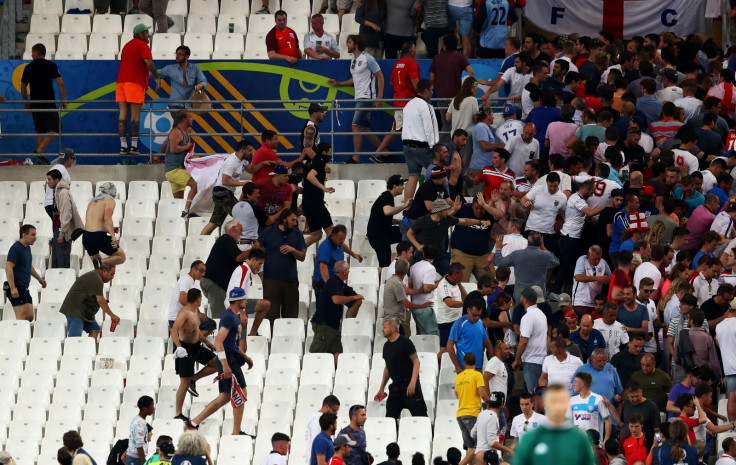 Me and a mate did had a perfectly good laugh with some Russia fans just hours before kick-off but inside the ground, a mess up by the stadium stewards saw me initially end up in the Russia end. Luckily enough, I was able to get back to my seat in the England end in time for kick-off.
A lot of people warned me about Marseille. Though I have heard those warnings before and never had any bother. I remain positive but given that I have another ticket for a game in Marseille I am not sure whether it is worth it.
Uefa statement on England and Russia clashes
"The UEFA Executive Committee would like to express its disgust at the violent clashes which occurred in the city of Marseille. Such unacceptable behaviour by so-called supporters of the national teams of England and Russia has no place in football, a sport we must protect and defend.
"The Uefa Executive Committee has warned both football associations that – irrespective of any decisions taken by the independent disciplinary bodies relating to incidents inside the stadium – it will not hesitate to impose additional sanctions on the Football Association (FA) and the Russian Football Union (RFS), including the potential disqualification of their respective teams from the tournament, should such violence occur again.
"We urge both the FA and the RFS to appeal to their supporters to behave in a responsible and respectful manner. We would also like to publicly voice our support for the work of the French authorities and security forces for their efforts to deliver a safe and secure tournament in challenging circumstances."
The press reaction in France has been about the English, not about the Russians who attacked fans inside the stadium. Don't believe all you read in the newspapers, though yes England have had issues in the past. But there are two sides to every story. On this occasion the majority of English fans were innocent.