Uefa has begun disciplinary proceedings against the Russian Football Union (RFS) and expressed its "serious concern"" after Russian fans allegedly attacked England supporters in the Stade Velodrome in Marseilles, during Saturday's Group B match. No comparable proceedings are being made against the English Football Association (FA).
Footage shows Russian supporters climbing over barriers at the Stade Velodrome, rushing at England fans and attacking them during the 1-1 draw. A flare was also fired into a section of the stadium holding England fans.
The European footballing authority has charged Russia with crowd disturbance, racist behaviour, and setting off fireworks.
In the footage above, England supporters - including families with children - can be seen rushing towards exits to escape the violence.
Earlier in the day there were ugly scenes, as England fans clashed with rival supporters and French police in the centre of the city. A number of England fans were taken to hospital after being injured, with one in a critical condition. A group of around 200 Russian supporters is alleged to have carried out systematic attacks on England fans in the port area.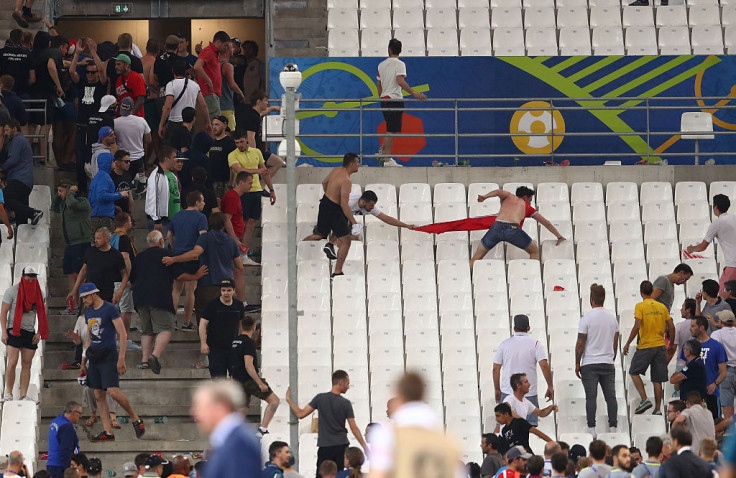 Responding to Uefa's charges, Russia's Sports Minister, Vitaly Mutko, said it had "done the right thing" to start a disciplinary case, R-Sport news agency reported. "It's the right thing, there were flares, there was a flare gun, there had been clashes in the stands, it's necessary to sort all of this out," he reportedly said. "The fans were rooting greatly, but there are people who do not come for the football."
The UEFA Executive Committee expressed "its disgust for the violent clashes which occurred in the city of Marseille.
"Such unacceptable behaviour by so-called supporters of the national teams of England and Russia has no place in football, a sport we must protect and defend," it said in a statement.
"The UEFA Executive Committee has warned both football associations that – irrespective of any decisions taken by the independent disciplinary bodies relating to incidents inside the stadium – it will not hesitate to impose additional sanctions on the Football Association (FA) and the Russian Football Union (RFS), including the potential disqualification of their respective teams from the tournament, should such violence occur again.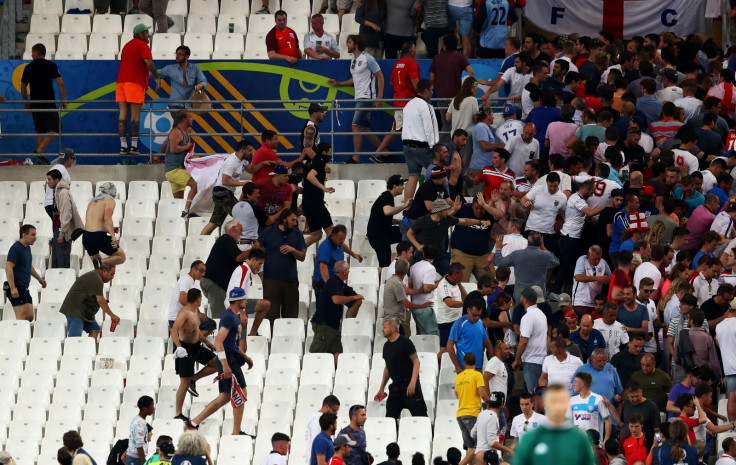 "We urge both the FA and the RFS to appeal to their supporters to behave in a responsible and respectful manner."
It said the number of security personnel at games would be increased and measures to segregate fans boosted. Uefa has been criticised for failing to ensure fans at the stadium were kept separate, and not providing sufficient personnel to ensure their safety.
The body said it only takes disciplinary action against member nations for the behaviour of fans inside the stadium. Its control ethics and disciplinary body will meet on Tuesday (14 June) to discuss sanctions against Russia.
A four year probationary period for violence by its fans in the Euro 2012 championships had just ended of this year's competition.