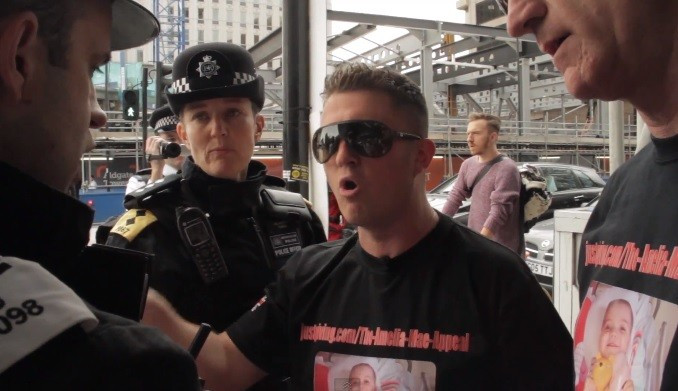 A video of English Defence League leaders Tommy Robinson and Kevin Carroll being arrested has gone viral on the internet.
Footage of the pair getting into a scuffle with two men in east London has garnered more than 150,000 views on YouTube in less than 24 hours.
Robinson, 30, and Carroll, 44, were held by police on suspicion of defying a police order to stay out of Tower Hamlets.
Two other men, aged 31 and 41, were arrested on suspicion of assault.
It happened during a "charity walk" by the English Defence League pair on Saturday 29 June, at around 11.30am.
After video of the incident was published on YouTube, users flocked to the page to heap criticism on the EDL.
Scotland Yard officers banned the EDL figures from Tower Hamlets over fears of potential clashes. They had been set to walk past the east London mosque - which has been previously linked with radical Islam.
All four men were bailed until mid-August.
Speaking on Sunday after being released from custody, Robinson - real name Stephen Lennon - said he wanted to complete the "charity walk" to Woolwich.
He took to Twitter to tell followers: "I will be finishing what I started with my walk from Hyde Park to Woolwich."
Robinson also announced another EDL event against Islam will be held in Birmingham on 20 July.