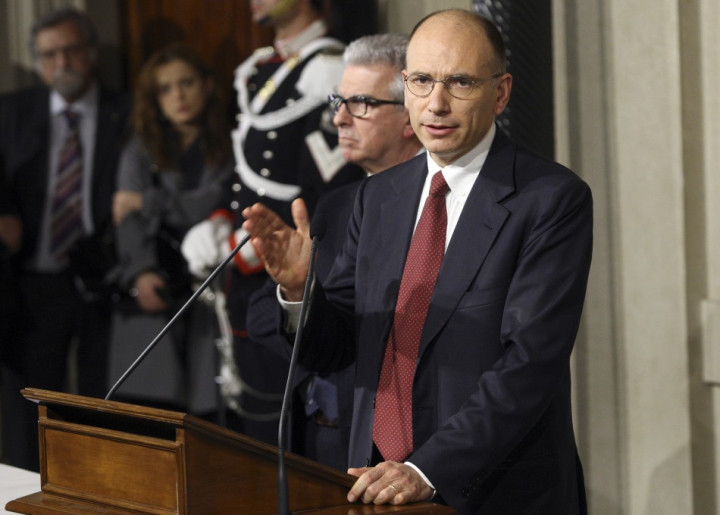 Italy's President Giorgio Napolitano has given the mandate to former centre-left Democratic Party (PD) number two, Enrico Letta, to form a government.
Letta, 46, the nephew of an aide to Silvio Berlusconi, is set to end the political paralysis that has gripped the country since the inconclusive February elections.
Letta said he was "surprised" to be summoned at the Quirinale presidential palace by Napolitano.
He has accepted the task to form a government and lead Italy out of the economic crisis "over a sense of responsibility". The country "needs answers", he said.
"I've accepted [the mandate] with great humility and awareness of my own limits," Letta said. "I'm strongly determined to carry out the mission the president has decided to task me with."
A coalition government including Berlusconi's People of Freedom party (PDL), PD and outgoing PM Mario Monti's centrist Scelta Civica is now likely to be formed and could be approved by the parliament as soon as tomorrow.
Letta, a former minister under Massimo D'Alema's centre-left led government in the late 90s, is the nephew of one of Belusconi's closest aides, Gianni Letta.
"He [Letta] is the best choice," said former PD leader Pier Luigi Bersani, who resigned earlier this week.
PDL whip Rentato Brunetta said his party would welcome a government led by Letta.
Napolitano, who was re-elected for an unprecedented second seven-year term with the backing of PDL and PD, appointed Letta after holding round-the-clock consultations with party leaders.
PD and PDL said they were ready to support a coalition government after he urged them to "face reality" and lead Italy out of recession through economic and institutional reforms.
"I haven't accepted the presidential office to take cognisance of the ungovernability of the country, but to give Italy a government," Napolitano told MPs during his opening speech.
"At the last elections, no political force gained enough votes to rule the county on its own," Napolitano said, adding that parties needed to face this reality "whatever pledge or pact [they] made to their electors".
Months of negotiations had come to nothing for the PD, which holds a majority of seats in the chamber of deputies but not in the senate. It refused to strike a coalition deal with the PDL on one side and was snubbed by former comedian Beppe Grillo's Five Stars Movement (M5S) on the other.
READ:
Enrico Letta Profile: Mild-Mannered AC Milan Fan who is Italy's Next PM