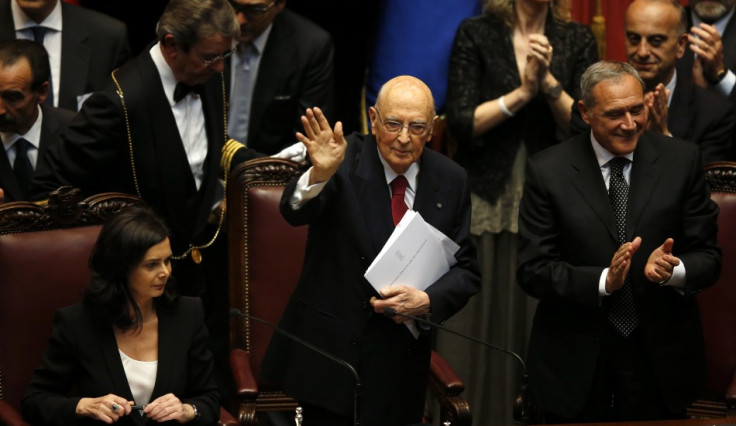 An emotional Giorgio Napolitano took his second oath of office as Italian president and urged political parties to "face reality" and strike an agreement to form a government.
Napolitano, 87, was re-elected for an unprecedented second seven-year term with the backing of Silvio Berlusconi's People of Freedom Party [PDL] and the centre-left Democratic Party [PD].
"I haven't accepted the presidential office to take cognisance of the ungovernability of the country, but to give Italy a government," Napolitano told MPs, his voice cracked with emotion.
"At the last elections, no political force gained enough votes to rule the county on its own," Napolitano said, adding that parties needed to face this reality "whatever pledge or pact [they] made to their electors."
Italy still has no government, eight weeks after the February vote.
Months of negotiations came to nothing for the PD, which holds a majority of seats in the chamber of deputies but not in the senate, refused to strike a coalition deal with the PDL on one side and was snubbed by former comedian Beppe Grillo's Five Stars Movement (M5S) on the other.
Napolitano's re-election and his first words pave the way for a new broad coalition government styled after the outgoing Mario Monti administration.
Napolitano stressed the need for a new electoral law to replace the much-criticised "pigsty" electoral process he blamed for the hung parliament result. He slammed parties for failing to change the law at an earlier opportunity.
Napolitano, who had been hoping to retire at the end of his first term because of his advanced age, implied that if his call to be realistic fell on deaf ears he might step down.
A coalition would be likely to be formed by PDL, PD and Monti's centrist Scelta Civica.
M5S MPs have long maintained that they would not strike a deal with any other political force and were the only one not to applaud the president's speech. At the presidential election M5S voted for its own candidate Stefano Rodota.
Berlusconi welcomed the presidential message saying Napolitano's speech was the most extraordinary he had heard in his political life.
READ:
Italian Shares, Bonds Rise as Napolitano Election Raises Hopes For New Government