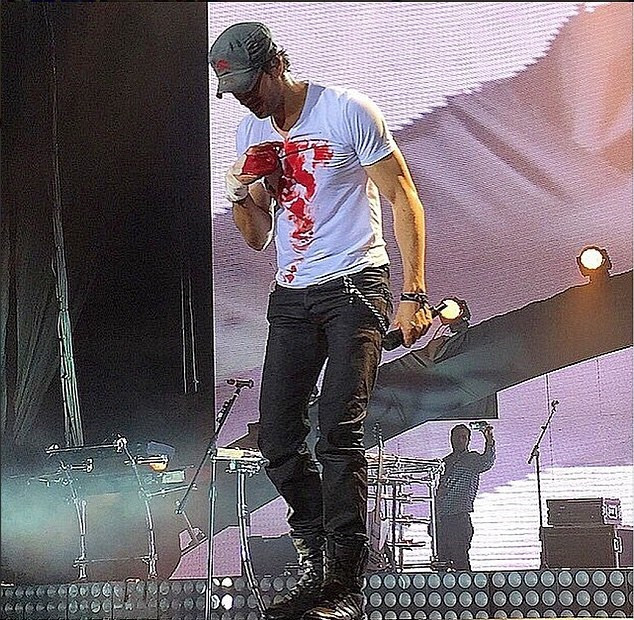 Enrique Iglesias suffered a mishap during a concert that left him bleeding.
The singer was performing to a packed crowd in Tijuana, Mexico on Saturday (30 May) night fans during his Sex And Love World Tour when he tried to grab hold of a drone that was used to capture shots of the crowd.
The 40-year-old's fingers were cut in the incident 50 minutes into his performance as he sang the song Escape.
A representative for Iglesias said in a statement to The Associated Press that he was 'semi-treated' after the accident at the side of the stage to stem the bleeding. He was advised to end the show, but didn't want to disappoint the 12,000 strong crowd and continued to entertain the fans for a further 30 minutes.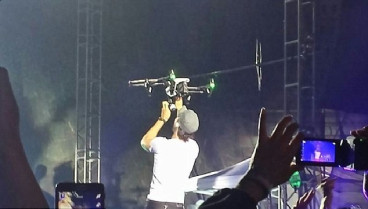 The statement read: "During the show a drone is used to get crowd shots and some nights Enrique grabs the drone to give the audience a Point of View shot. Something went wrong and he had an accident. He decided to go on and continued playing for 30 minutes while the bleeding continued throughout the show. He was rushed to the airport where an ambulance met him there. He was then put on a plane to L.A. to see a specialist."
Soldiering on with his performance despite his injury, the singer painted a heart on his white T-shirt using his own blood.
Fans sent get well soon messages for their idol on social media and praised is for him for his professionalism.
"I've seen artist cancel whole gig due to small hurts but @enrique305 "He's one of a kind" cuts his fingers but still continues with the show,' said one fan.
"he has a heart either bigger than the one he drew on his shirt @enrique305 Thanks for all hope you get well soon!" said another.
The next show in his Sex and Love world tour is in July in Mexico City.