EPA's science board 'eviscerated' and to be replaced with industry-friendly professionals
President Tump and EPA chief Scott Pruitt are making the changes for 'regulatory certainty'.
The Environmental Protection Agency (EPA), under the Trump administration, has "eviscerated" a key scientific review board in order to replace them with industry professionals, the board's chair has said.
The Board of Scientific Counselors advises the EPA on the quality and accuracy of the science it produces, but it was confirmed on Monday (8 May) that nine of its 18 members' terms would not be renewed.
Board members are limited to two three-year terms, where experts are typically reappointed for the second term, but the EPA decided to cut their tenures short to one term on this occasion.
A further four board members have completed their second terms meaning that 13 of the 18 seats on the panel are to become vacant.
"The committee has been eviscerated," Deborah Swackhamer, chair of the board, told the Guardian.
"We assumed these people would be renewed and there was no reason or indication they wouldn't be.
"These people aren't Obama appointees, they are scientific appointees. To have a political decision to get rid of them was a shock."
The departing members, made up largely of top academics, worked on a range of topics including climate change, chemical safety and water pollution.
Discarding them opens the door for President Donald Tump and EPA administrator Scott Pruitt to replace the independent experts with professionals from industry that the EPA is supposed to monitor, leading to "regulatory certainty".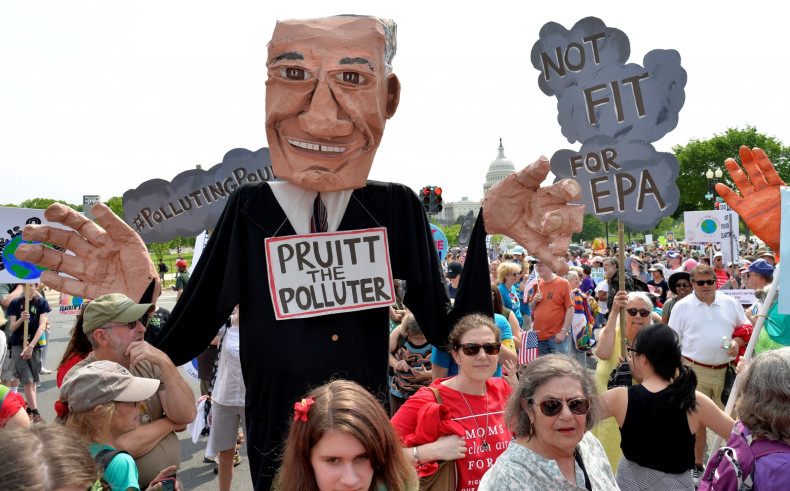 An EPA spokesman told the New York Times: "The administrator believes we should have people on this board who understand the impact of regulations on the regulated community."
Industry-friendly appointments would lead to numerous conflicts of interest, Swackhamer said.
"If you have industry hand-picked people," she said, "the concern would be that they would have a frequent conflict because we discuss areas that touch upon big industry."
She added that if the committee is turned into a political pawn, its credibility within the scientific community would be tainted.
Robert Richardson, one of the scientific counselors not reappointed to a second term, told AP that decision showed a fundamental misunderstanding of how the review board works.
"The science will show the impact of a particular chemical or toxic substance, but we would never say it should be banned or regulated in a particular way," said Richardson, an ecological economist at Michigan State University.
Instead, Richardson said, it is up to policymakers to decide what new regulation would be most effective.
"The EPA's mission is to protect human health and the environment," he added. "It is not to minimise cost to industry."