US President Donald Trump's nominee for the Environmental Protection Agency (EPA) Scott Pruitt has been sworn in as the head of the agency. The US Senate confirmed his vote on Friday (17 February) despite objections raised by the Democrats and environmentalists.
Democrats held the Republican-controlled Senate floor through the night on 17 February to put pressure on the chamber to delay the confirmation vote.
However, the Senate voted 52 to 46 in favour of Pruitt's confirmation.
Only one Republican, Senator Susan Collins of Maine, is reported to have voted against him, while two Democrats from energy-producing states – Joe Manchin of West Virginia and Heidi Heitkamp of North Dakota – voted in favour of the controversial leader.
"I have no doubt that Scott will return the EPA to its core objectives," said Republican Senator James Inhofe, also of Oklahoma. He accused the agency of being guilty of "federal overreach, unlawful rule making, and duplicative red tape," during Barack Obama's presidency, Reuters reported.
However Wyoming Senator John Barrasso thinks, Pruitt would "bring much needed change" to the EPA. He said the EPA "has made life hard for families all across America".
With Pruitt's confirmation, the POTUS has filled 14 of his 22 cabinet posts.
Pruitt is known for being extremely critical of the agency, which he now heads. He has sued it more than a dozen times when he was the attorney-general of Oklahoma. His appointment is said to be perhaps the most controversial one in the history of the EPA.
Hundreds of former EPA staff wrote an open letter to the Senate, urging it to reject Pruitt. They said he had "shown no interest in enforcing environmental laws", with some calling him an "unqualified extremist".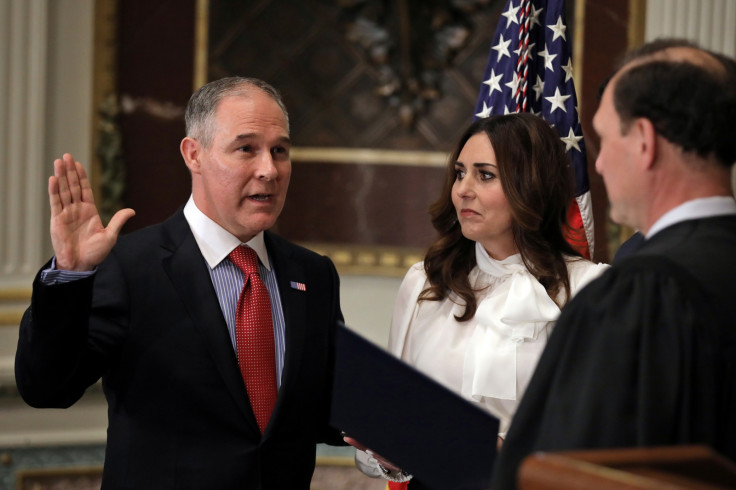 The controversial appointment also came amid concerns that Trump might sign an executive order to ease regulations on drillers and miners. Democrats, who boycotted an earlier vote, claimed Pruitt was too close to energy companies.
They demanded that Pruitt hands over at least 3,000 requested emails that he had exchanged with oil and gas executives to the watchdog Centre for Media and Democracy (CMD). The emails were reportedly exchanged while he was Oklahoma attorney general.
On Thursday (16 February), a judge in Oklahoma ordered him to release those emails by 21 February. The 48-year-old Republican had refused to submit the emails for more than two years.