A week after Syrian rebels recaptured Jarablus in an incursion backed by Turkish special forces, tanks and jets, traces of Islamic State (Isis)'s grip on this Syrian border town are being erased. Murals painted on walls by the ultra-hardline Islamists who ran Jarablus for three years are gradually being painted over. In one, a Daesh fighter with a machine gun rides a rearing horse, with a black flag flying and a sabre by his side. In another, an IS flag flies from a pole embedded in a pile of skulls.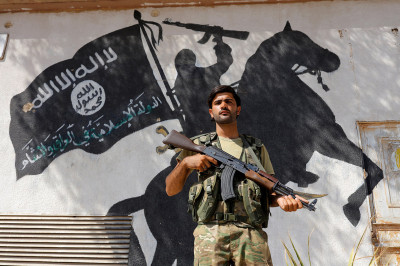 Now, children play again in dusty streets, while women hang laundry outside buildings on the edge of town, some of them half-destroyed. There is little sign of the Turkish military presence. Syrian rebel fighters, some in camouflage fatigues and sandals, others in civilian clothes, are the ones in control, patrolling on motorbikes and in trucks. Some of the young rebels flash victory signs, wanting their pictures taken and showing off for a gaggle of mostly Turkish TV cameras on a visit facilitated by the Turkish government.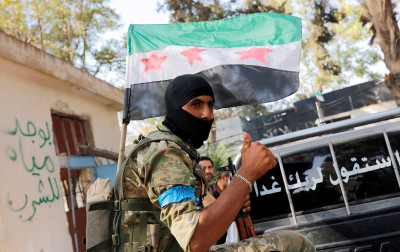 Husyein Kakmaz, 46, a Jarablus resident who made his living as a driver before Daesh seized the town, described life under the jihadists to Reuters: "It is ecstasy. Life was not life. There were so many prohibitions, no smoking, women couldn't show their faces."
Yasin Darvish, a doctor in a small clinic, told Reuters the jihadists had taken everything as they fled, leaving barely enough supplies to treat the wounded. "They took every piece of equipment so the hospital is empty. There are just emergency supplies and not even an X-ray machine."
Bread and drinkable water are in short supply in the once-thriving trading town and there is little sign of commercial life. "There's no bread, no electricity, because they took everything when they fled. They took the generators," said one resident, Adil, 47. "There was one oven in the bakery and they even took that," he said.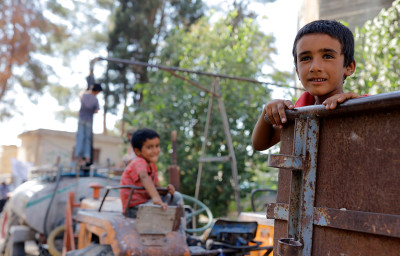 Jarablus sits on the north-eastern edge of a rectangle of Syrian territory some 80km (50 miles) long, seized by Isis as it carved its self-declared caliphate out of a swathes of Syria and Iraq. Turkey and the United States have long hoped that by sweeping Isis from this border zone, they can deprive it of a smuggling route which has seen its ranks swollen with foreign fighters and its coffers boosted by illicit trade.
Turkish President Tayyip Erdogan's spokesman said the aim of the military incursion, dubbed "Operation Euphrates Shield", was to "cleanse" the strip of territory of all militant groups and threats to Turkish security.
However, this is a complex corner of Syria's five-year war. Just to the east, over the Euphrates, lies territory controlled by a US-backed Kurdish militia also fighting the jihadists, but seen by Turkey as a hostile force, an extension of militants who have fought a three-decade insurgency for Kurdish autonomy in south-eastern Turkey.