Isis stronghold 'considered fully liberated' as Turkish-backed rebels 'seize' Jarablus
Jarablus was 'taken back' just hours after Syrian rebels and Turkish tanks entered the city.
Islamic State (Isis) fighters have been ousted from the northern Syrian border town of Jarablus following an offensive spearheaded by Turkish tanks and hundreds of Syrian rebels on Wednesday (24 August). Jarablus is located three miles from the Turkish-Syrian border.
The air and ground operation – backed by the US – rapidly advanced on Jarablus, with rebel fighters declaring victory just 14 hours after it got underway, Agence France-Presse (AFP) news agency reported. The US provided Turkish officials with intelligence collected via drones.
"Jarablus can now be considered fully liberated," Ahmed Othman, a commander in the Free Syrian Army (FSA) told Al Jazeera from the scene. IS (Daesh) fighters reportedly fled to the city of al-Bab to the southwest.
"The attack started in the morning and we were able to take control of a number of villages near the town," an unnamed rebel spokesman said. "After a few hours and after controlling the hills surrounding the town, Isil felt the danger. A large number of Isil fighters withdrew south towards al-Bab, which is still under [IS] control."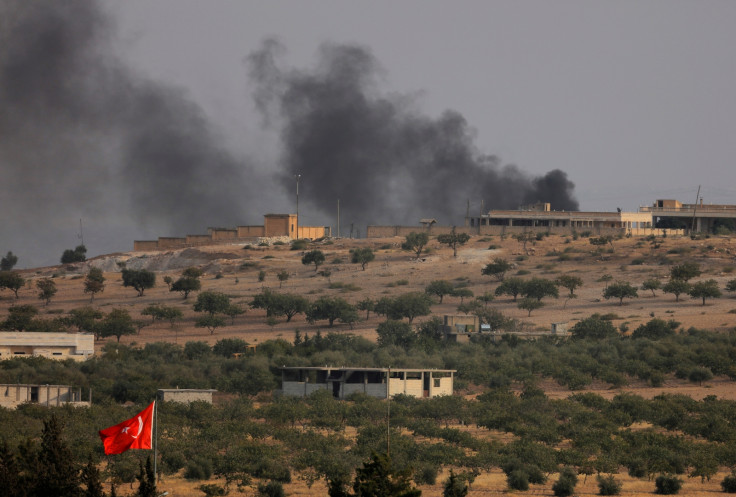 Turkish President Recep Tayyip Erdogan hailed the Operation Euphrates Shield and said Syrian fighters had "taken it [Jarablus] back" from IS militants. He added that the efforts were aimed at "putting an end" to issues on Turkey's border and said they were also targeting Kurdish militia fighters (PYD).
"[Wednesday's operation] started in the north of Syria against terror groups which constantly threaten our country, like [IS] and the PYD," Erdogan said.
Syrian activist and journalist, Ahmad Alkhatib, posted pictures of the rebels inside Jarablus on Twitter. The images showed FSA fighters standing next to a building with a black IS flag in the background. Efforts to retake Jarablus involved up to 12 tanks which rolled in from Turkey, as well as pick-up trucks believed to be carrying fighters.
According to local media reports, around 46 jihadists were killed, although the figure has not officially been confirmed.
© Copyright IBTimes 2023. All rights reserved.