Turkey's President Recep Tayyip Erdogan has been criticised for telling a young girl that she would be honoured if she died a martyr in Afrin, northern Syria, where Turkish forces have launched an offensive against Kurdish militia.
Erdogan called the crying child, who was dressed as a soldier, on stage at a televised conference of his AK Party.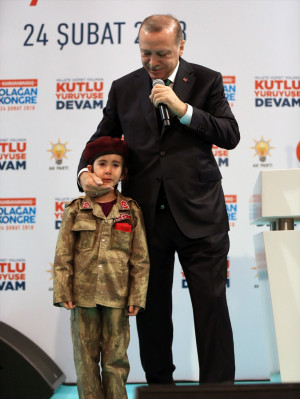 "Look what you see here! Girl, what are you doing here? We have our maroon berets here, but maroon berets never cry," he told the child, referring to the berets worn by Turkey's Special Operations Forces.
"She has a Turkish flag in her pocket too... If she's martyred, they'll lay a flag on her, God willing," Erdogan told the crowd, who loudly cheered "Chief! Take us to Afrin!", showing support for Turkey's offensive in northern Syria.
"She is ready for everything, isn't she?" Erdogan asked. After the girl responded "yes", he kissed her face and let her go.
The Turkish president's comments sparked outrage, with people accusing Erdogan of "child abuse."
"It's a shame, it's very bad. She's just a child, you don't wish her dead and you don't say 'God willing' for that!" one Turkish man wrote on Twitter.
Opposition politician Meral Aksener, of the nationalist IYI Party (Good Party), likened Erdogan to a member of Hamas in his praise of child martyrdom.
"He is following Hamas. I am calling on Mr. Erdogan to stop being a loudmouth. Get serious," she said.
The pro-Kurdish Peoples' Democratic Party (HDP) also condemned Erdogan's remarks. "The mindset that abuses children by promising them death will lose. We will win the struggle for the children's free and happy life!" the party said in a statement on Twitter.
It is not the first time the Turkish president has referenced martyrdom for political gain.
At the funeral of a soldier killed during the Syria offensive in January, Erdogan was accused of politicising the death, by directly referencing the military operation in his eulogy.
259 fighters, including 40 Turkish soldiers, have been killed in operation 'Olive Branch' since it was launched, the Syrian Observatory for Human Rights said on Saturday (24 February).
Turkey launched the offensive against the People's Protection Unit (YPG), the armed wing of the Kurdish Democratic Union Party (PYD), on 20 January. Erdogan views the YPG as an extension of the banned Kurdistan Workers' Party (PKK).