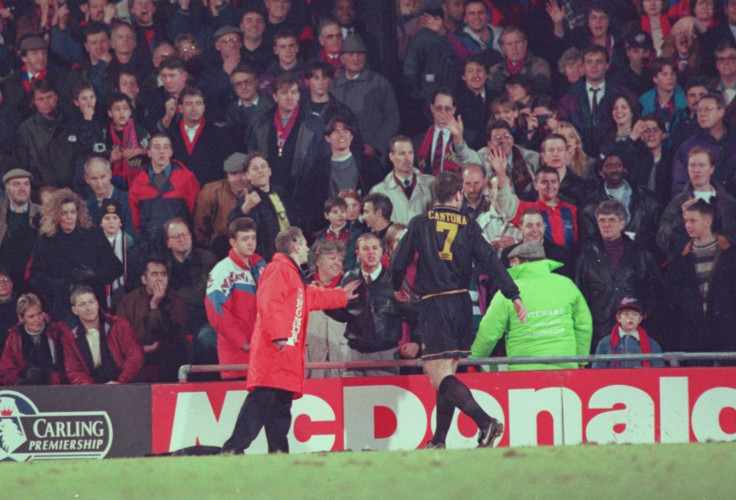 Two decades have passed since Eric Cantona, Manchester United's mercurial icon, launched his studs through the brisk January air and into the Selhurst Park crowd. It was a moment that still suspends belief to this day.
After being shown a red card for lashing out at Crystal Palace's Richard Shaw, "Le Roi" took offence to the jeers from one supporter, Matthew Simmons, before executing an inexplicable kung-fu kick and brawling with the rowdy spectator before Peter Schmeichel and former United kitman Norman Davis hauled him down the tunnel.
That moment, and the subsequent musings about "seagulls following the trawler", are now as synonymous with Cantona's character as his perennially upturned collar. It divided opinion like nothing else and unequivocally contributed with the man's legend on these shores.
But away from the rampant media coverage, the unforgettable soundbites, the subsequent Nike campaigns and his celebrated return to the game nine months later, it was a moment that sparked a tension between two sets of supporters and still lingers today.
Three months on from Cantona's thunderous departure in south-east London, United and Palace met again met in an FA Cup semi-final. The ill-feeling between the two sets of supporters that was sparked on that cold January night at Selhurst Park was still fresh.
Tragic death of Paul Nixon
Such was the level of enmity between fans the fact that the Frenchman was not even present due to his nine-month suspension was irrelevant. Palpable tension between the two groups came to head at a pub eight miles away from Villa Park and tragically resulted in the death of a Palace fan, 35-year-old Paul Nixon.
Nixon's death was a separate tragedy. To suggest Cantona's kick led to it does not border on the ludicrous, it comfortably surpasses that line. But given how those events ignited nasty discord between two sets of supporters, sections from the Crystal Palace contingent inevitably associate one of the Premier League's watershed moment with the death of one of their own.
"The Cantona incident and the press coverage it received makes Palace fans uneasy, to be honest, mostly because what followed," Matt Woosnam, online editor of fanzine Five Year Plan, told IBTimes UK.
"I don't think Cantona's kick led directly to the death of Paul Nixon but when Cantona comes up, inevitably people think of it, because of the relationship there, because of the harsh memories.
"A lot of Palace fans have a lot of disgust with the way it, Cantona's kick, was dealt with at the time, the way it was reported at the time to the extent where it is now celebrated."
Cantona's wrongdoing
With this in mind, it is no wonder why Palace fans have not been fondly remembering that moment in January 1995 when Cantona shocked the world.
Woosnam said: "It's talked as being infamous, and while I don't see people saying the kung-fu kick was right or the kung fu kick was the correct decision, or justified, it's strange how the focus is on the specific nature event rather than Cantona's wrongdoing.
"It's about this maverick Frenchman who suddenly saw red that night and that's that, it's not about what that represents."
That animosity between the two supporters was still felt upon Crystal Palace's return to the Premier League after a six-year hiatus for the 2004/05 season and again in last season.
United fans travelling down to Selhurst Park that season wanted to celebrate their return to scene of one of Cantona's many seminal moments by wearing masks of their former captain, made famous in the Frenchman 's 2009 film, Looking For Eric. Selhurst Park officials promptly barred anyone adorning them access to the stadium, prompting incredulity from the travelling support.
United fans and supporters' group Stretford End Flags dismissed the idea that it had anything to do with Nixon's death. But it did little to temper the tension between two clubs who have no geographical rivalry, no historical conflict and whose only real connection prior to 1995 was their FA Cup final showdown five years earlier.