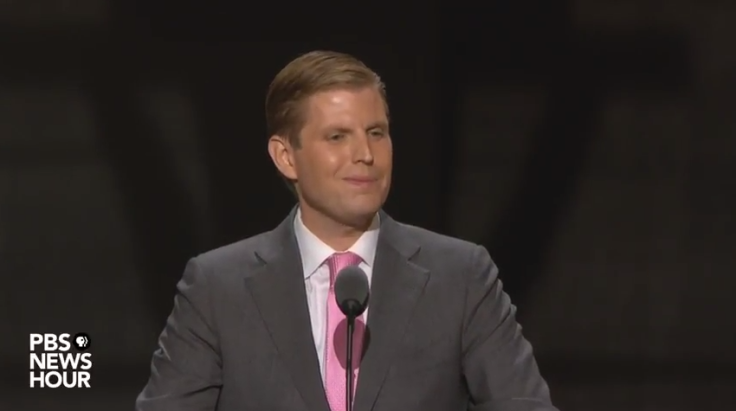 Donald Trump's son Eric tried to paint his dad as a man of the people by saying that the real estate mogul and reality show star started "from just about nothing" — apparently forgetting that his father inherited a fortune.
The next-generation Trump painted his dad as an up-from-his-bootstraps real estate entrepreneur, even though Donald Trump's father, Fred Trump, was also a real estate tycoon — once considered one of the richest men in New York — and loaned his son $1 million (£770,000) in 1978 to get started in his own business. Trump also inherited millions of dollars from his father.
"I think he's a guy who has been an entrepreneurial guy," Eric Trump, 32, said on a Fox News programme after he was asked about his father's outreach to millennial voters.
"He's built an amazing company. He's become the epitome of the American dream."
Trump added that his father had "gone from just about nothing," but was interrupted by Fox co-host Julie Roginsky.
"Nothing? He got a million bucks? I mean, come on," Roginsky interjected.
Eric must have learned that a million dollars was "small" from his dad, who has described it that way.
"My whole life really has been a 'no' and I fought through it," Trump said at an NBC-sponsored town hall meeting in 2015. "It has not been easy for me, it has not been easy for me. And you know I started off in Brooklyn, my father gave me a small loan of a million dollars."
On top of the seed money, Donald Trump benefited from numerous loans and loan guarantees, tax benefits and his father's connections, to expand the family's real estate business from Queens and Brooklyn into Manhattan, records have shown.
Trump's father also set up lucrative trusts to provide steady income for his son, notes the Los Angeles Times.
When Donald Trump became overextended in the casino business, his father bailed him out with a $3.5m (£2.7m) casino-chip loan that regulators later said was illegal, and Trump also borrowed $9m (£6.9m) against his future inheritance, the Times reported.
Public money was hugely helpful in building the Trump empire.
According to an investigative report in the New York Times, in one of his early deals Trump used "inside connections" to wrest a massive tax break from the city to convert an old railroad midtown hotel to the 30-story Grand Hyatt. The "extraordinary" 40-year tax break has cost the city $360m (£277m) to date in forgiven, or uncollected, taxes on a property that cost only $120m (£92m) to build in 1980, according to the Times.
Since then, Trump has collected a total of $885m (£682m) in tax breaks, grants and other subsidies for luxury hotels and apartment and office buildings in New York, according to city records, the Times reported.
It's impossible to know how much Trump has paid in taxes because he has refused to release his tax returns, which is standard practice among presidential candidates.