Billionaire businessman Warren Buffett has joined the long list of people criticizing Republican nominee Donald Trump this week. During an Omaha, Nebraska rally for Democratic nominee Hillary Clinton, Buffett challenged Trump to release his tax returns and called him out for fighting with the Khan family.
"I will meet him in Omaha or Mar-a-Lago or, he can pick the place, anytime between now and election. I'll bring my return, he'll bring his return," Buffett said to the crowd. "We're both under audit. And believe me, nobody's going to stop us from talking about what's on those returns." His proposal was met with enthusiastic applause, NBC News reported.
Buffett added that the two should allow people to "ask us questions about the items that are on there.
Trump has been repeatedly criticised for refusing to release his tax returns. The GOP nominee claims he will not release them because he is under audit by the Internal Revenue Service (IRS). According to USA Today, every major party nominee has released tax returns before Election Day since the late 1970s.
The billionaire noted that there are "no rules against" showing his tax returns while he is being audited. "You will learn a whole lot more about Donald Trump if he releases his income tax return," he said.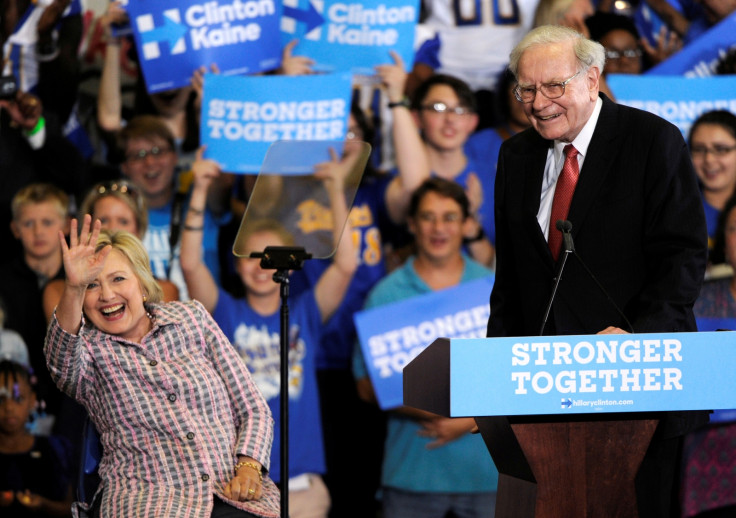 "He's not afraid because of the IRS," Buffett said of Trump, according to The Wall Street Journal. "He's afraid because of you."
Buffett also took the opportunity to weigh in the ongoing controversy involving Trump and the parents of Muslim-American war hero Humayun Khan, a US Army captain who was killed by suicide bombers in Iraq in 2004.
"How in the world can you stand up to a couple of parents who've lost a son and talked about sacrificing because you were building a bunch of buildings?" Buffett said. Invoking Joseph Welch's question during the Army-McCarthy hearings in 1954, he said: "I ask Donald Trump: have you no sense of decency, sir?"
Buffett has become the latest businessman to put his support behind Clinton, NBC News noted. Former New York City Mayor Mike Bloomberg endorsed Clinton during his speech at the Democratic National Convention (DNC), while investor Mark Cuban introduced her at a Pittsburgh rally over the weekend.
Clinton is campaigning in Nebraska in hopes of securing a single electoral vote. According to the WSJ, Nebraska and Maine are the only states to allocate their electoral votes by congressional district. Clinton's campaign has been airing TV adverts in Omaha since last week and has a paid staffer in the state, the WSJ noted.