Eric Trump says father Donald would be 'foolish' to release his tax returns
Donald Trump's son also said his father was not 'flip-flopping' on immigration.
Eric Trump, the son of Republican nominee Donald Trump, claims it would be "foolish" for his father to release his tax returns while he is under audit by the IRS. The GOP nominee has faced a growing request from his supporters to make his records public, a tradition that nearly all presidential nominees have followed since 1976.
"There is no tax attorney in the world who will tell you to release your tax returns while you're under a standard routine audit. It would never happen. I mean, anybody who thinks that is in la la land," Eric Trump said during an interview with CNBC.
He added: "You would have a bunch of people who know nothing about taxes trying to look through and trying to come up with assumptions on something they know nothing about. It would be foolish to do."
The Huffington Post noted that the IRS has clarified that individuals are not prohibited for sharing their tax returns while they are being audited. There is also nothing preventing Trump from releasing tax returns from years that are not being audited.
Trump told CNBC that not much can be learned from a tax return, instead suggesting there is more to learn from looking at someone's assets. The younger Trump also disregarded allegations that his father was involved with the mob.
"I also hear these conspiracy theories all the time. You don't learn much from a tax return in all fairness," he told CNBC. "I heard someone the other day, 'Trump has ties to the mob. If he released his tax returns you would clearly see that.' Are you guys kidding me? You learn a lot more when you look at a person's assets. You know how many hotels we have around the world? You know how many golf courses we have around the world?"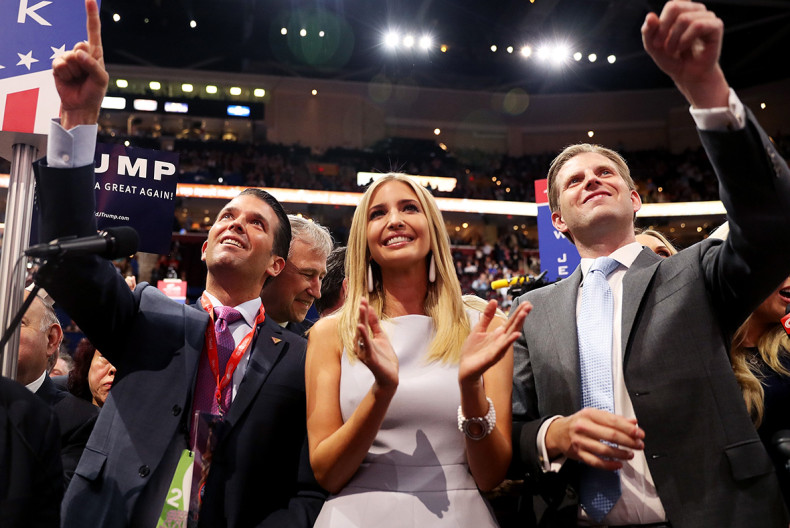 The interview also touched on recent accusations thrown at Trump's campaign that the GOP nominee is flip-flopping his stance on immigration. Eric Trump said his father is not changing his stance, noting he wants "America to come first."
"We've got a lot of problems in this country and we need to take care of our own first," he said. Donald Trump previously told Fox News' Sean Hannity that he was open to "softening" laws regarding undocumented immigrants.
"Honestly, I don't think it's flip-flopping at all. I think his message has always been very, very clear since the beginning of the campaign it's America first," Eric Trump said. "I think he's going to come out and speak very, very specifically about. He has a couple of immigration speeches coming up...[But] he will build a wall. Believe me. He will build a wall."
A recent Reuters/Ipsos poll reveals Trump continues to slide against Democratic rival Hillary Clinton. The poll, released on 23 August, shows Clinton with a 12-point lead, 45% to 33%. However, around 22% of likely voters said they would not chose either candidate during the November 2016 election.