Ajax midfielder Christian Eriksen remains open to joining Liverpool despite having already begun talks regarding a move to Champions League finalists Borussia Dortmund.
The Danish international revealed a fortnight ago that discussions had begun concerning a move to the Bungesliga runners-up as a replacement for Mario Goetze, who will join Bayern Munich this summer.
But after sporting director Marc Overmars confirmed earlier this week that no bid had been submitted for Eriksen, who is out of contract at the end of the 2013/14 season, the 21 year old has claimed a move to long-term admirers Liverpool could be a option.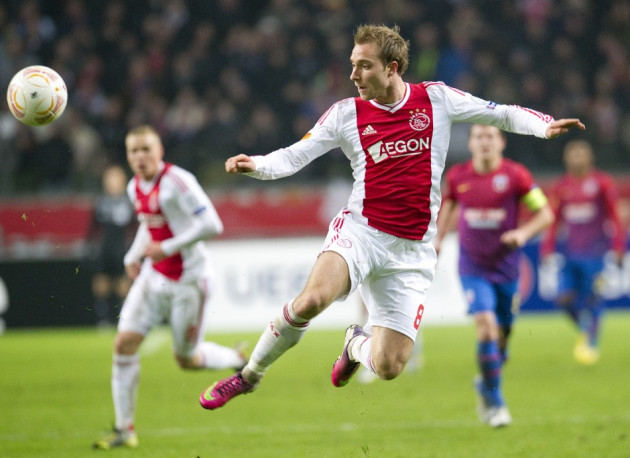 "Dortmund is one of the options that will be really good for me," Eriksen told sporten.dk. "But it is not the only option, but it is certainly a possibility.
"If there is something exciting, I would like to go but if not then I don't mind staying.
"I have read and Liverpool is definitely an option. It is also one of the clubs you'll weight higher than Amsterdam, and it's a different league and a different caliber.
"It sounds very exciting, but we have to look at it if there is something I do not know if there is anything specific, and I've even talked to Daniel [Agger] about it."
The Eredivisie's hottest property appeared set to move to Dortmund, who were defeated in the European Cup final by Bayern last weekend at Wembley, to fill the void left by Goetze - the German international who will join the treble-winners elect this summer.
With the prospect of also losing Robert Lewandowski this summer, manager Jurgen Klopp will be keen to make signficant additions to offset a summer transfer window which could work as a consequence to their impressive European campaign.
"Dortmund are a club where I would like to play," he told De Telegraaf. "I think I would be a good fit with the football there. Dortmund play nice, attacking football.
"I know there has been contact between the two clubs, and both Ajax and Dortmund have already talked to my agent. I will consider all the clubs and quietly make a decision. I want clarity when preparing for the new season, that's the best thing - for everyone."
Despite the deal being seemingly at an advanced stage, Eriksen has poured fresh doubt over the deal by claiming a move to Liverpool may still be a possibility, while Overmars has admitted reports of a deal being struck between Ajax, the Dutch champions, and Dortmund are wide of the mark.
"The Danish press publishes all kinds of stories, but Dortmund have not made a formal offer for Eriksen," Overmars told Algemeen Dagblad.
Eriksen has decent pedigree against English opposition, scoring in the 3-1 defeat to Manchester City in this season's Champions League group phase and his box-to-box midfielder style would see him as an able long-term replacement for Liverpool captain Steven Gerrard, whose longevity has again been question after a premature end to his season due to shoulder surgery.