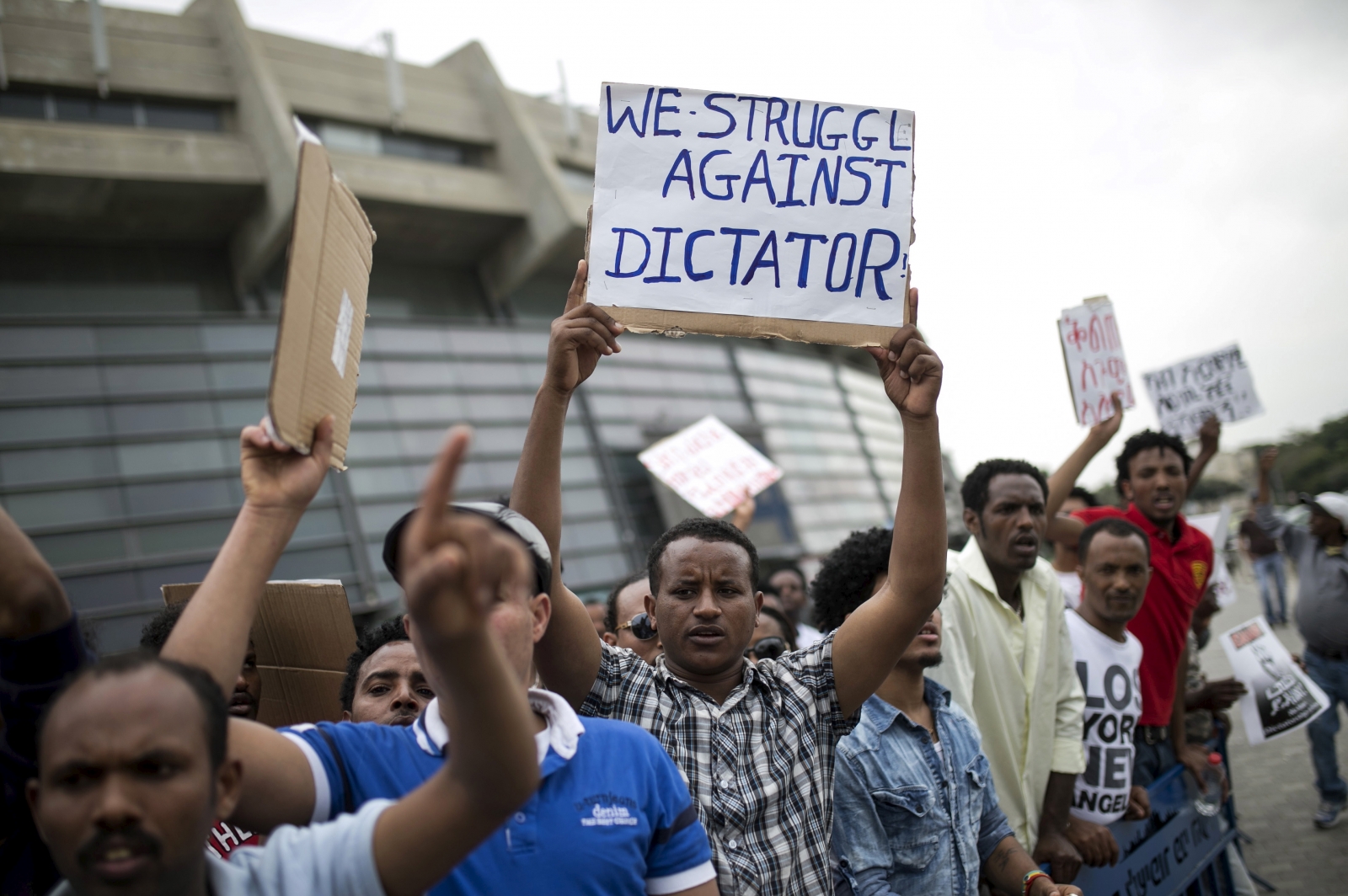 The last time Daniel Mekonnen got a death threat from Eritrea was in 2012, after he helped cost the government of his home country $86.5m (£56.3m).
Eritrea had owed the money to a Kuwaiti energy provider that had been selling oil to the country during the 1990s. The Kuwaitis hired a top London law firm which discovered that Eritrea had cash stashed in a Swiss bank account, which was then confiscated after a hearing in London. It was Mekonnen who had helped the firm find and seize the money.
"If they find me in the right place. Thank God I am in Europe and I don't think there is anything they can do but if I travel to Africa I don't feel secure, I don't travel there frequently. Even in Europe I have to keep an eye on where I go, with who I socialise and so on," he said.
The case wasn't political, but Mekonnen is. A 42-year-old human rights lawyer now based in Europe, he recently helped amass more than half of the 160 submissions to the UN that led to a damning report released this week that accused Eritrea of widespread human rights abuses.
Many of those that gave evidence to the UN Human Rights Council had been in Europe for some years, but others had come as recently as a few months ago. A large number had made the treacherous journey across Sudan and into Libya and Egypt, before crossing the Mediterranean in overcrowded boats. Thousands of refugees, many of them Eritreans, have drowned.
Mekonnen was a top provincial court judge in the capital Asmara when he left Eritrea in 2001 to study in South Africa. That was the same year that 15 prominent former allies of Isaias Afewerki penned an open letter to the Eritrean president criticising him for failing to hold elections and effectively running the country as a dictatorship since independence in 1993.
"I was in one of the most privileged positions in Eritrea, relatively speaking," he said.
The arrest of the so-called G-15 activists was followed by widespread arrests of political opponents, students and activists. Human Rights Watch reported in 2009 that almost a decade on thousands of those arrested in that first sweep remained in jail. In their report this week, the UN alleged extra-judicial killings, torture, slavery and mass killings.
As a result of persecution, limitations of basic freedoms and impartial judicial and political systems, people have fled the country at a rate of 5,000 every month. An estimated 6 to 10% of Eritreans are registered as refugees by the UN. The government considers people who try to leave the country as traitors and has adopted a shoot-to-kill policy on its borders.
"In the last 15 years we have seen horrendous violations taking place in Eritrea which have finally been described as something that constitutes a crime against humanity [...], one of the three major crimes that fall under the jurisdiction of the International Criminal Court in The Hague. This is a very serious allegation that the Eritrean government has to face," Mekonnen said.
He now wants to see President Afewerki brought before the court.
"If you read how they were treated, tortured, humiliated, de-humanised – you wouldn't believe the stories. These kind of things could have happened during the Stalin era [...] or in the Nazi concentration camps [...]. In the modern times you wouldn't expect this type of thing to happen – but they are happening right now. As you speak to me now," he said.
Mekonnen's activism has not only brought him death threats but widespread abuse on social media, where pro-Eritrean activists have a vitriolic hatred of activist and critics of the country. Even on Tuesday (9 June), the UN report and journalists that reported it were trolled widely on Twitter.
When IBTimes UK reported a series of articles critical of the Eritrean government in 2013, journalists were repeatedly attacked on social media.
Things have got so bad for Mekonnen and other Eritrean activists that they are now exploring legal means of stopping the trolls – which ironically, he said, mostly live in democratic countries such as the UK and Switzerland.
"We have been constantly and persistently insulted and abused, harassed, intimidated, to an extent that we are getting used to it [...]. We're assembling a group of lawyers that can take action against these people, who I don't call supporters, many of them are a bunch of thugs," he said.