The European Space Agency's comet chasing Rosetta spacecraft is to be woken up after 957 days of deep space hibernation.
Rosetta was launched from Europe's Spaceport in Kourou on 2 March 2004 and it has since travelled over 800 million kilometres from the Sun.
It is currently close to the orbit of Jupiter and during its expedition has travelled past Earth three times, past two asteroids and orbited Mars once.
The final destination for Rosetta is Comet 67P/Churyumov–Gerasimenko, travelling further into the inner solar system.
Rosetta has been in hibernation for the most distant part of its journey. However, after almost three years asleep, it will be woken up to continue its scientific expedition to the comet.
The spacecraft's internal alarm will go off at 10am GMT – and viewers have been invited to watch the process live online.
The 'Wake Up Rosetta' campaign is being run by the ESA as a celebration of the end of the spacecraft's 31 month hibernation.
As well as running the Twitter hashtag #WakeUpRosetta, the ESO has also developed a Facebook page dedicated to the mission, with live updates of the wake up process.
Explaining how it will work, ESA experts said they will be waking for a spike in activity after Rosetta sends out a radio signal from 807 million km across our Solar System to Earth.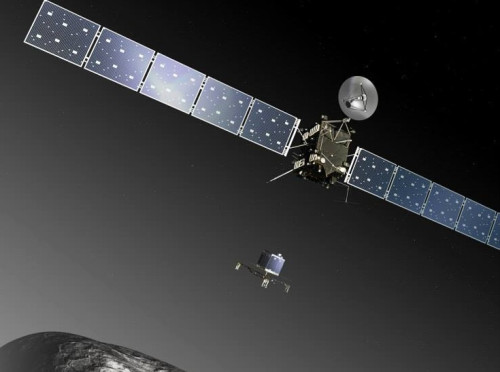 After the signal is given for Rosetta to wake up, it will begin to warm, a process lasting around six hours. Its thrusters will fire to stop the rotation and an adjustment will be made to ensure its solar arrays are facing directly at the Sun.
Rosetta will then turn towards Earth, switch on its transmitter and point its antenna to announce it is awake. The signal should reach Earth around 45 minutes after being sent out. The first signal is expected to reach the ESA at around 17.30 GMT.
"ESA's Rosetta spacecraft launched in March 2004 and has since been chasing down comet 67P/Churyumov-Gerasimenko, where it will become the first space mission to orbit a comet, the first to attempt a landing on a comet's surface, and the first to follow a comet as it swings around the Sun. In the last ten years Rosetta has made three flybys of Earth and 1 of Mars, and passed by and imaged asteroids Steins and Lutetia," the agency said.
"Operating on solar energy alone, in June 2011 Rosetta was placed into deep space hibernation as it cruised nearly 800 million kilometres from the warmth of the Sun, close to the orbit of Jupiter.
"On 20 January, Rosetta will wake up at 673 million kilometres from the Sun and about nine million km from the comet, ready for the next leg of its epic adventure."