The Spanish government and Catalan nationalists appear to be heading for a showdown on Saturday (30 September), as police sealed off over half of polling stations designated for a disputed referendum on the region's independence from Spain.
A top Spanish security official in Catalonia said more than half of the 2,315 polling stations designated for the referendum had been taken over.
Enric Millo, the highest-ranking Spanish official in the northeastern region, said parents and students were found to be occupying 163 schools and holding activities when police were sealing off facilities on Saturday.
The regional police force has been ordered not to use force, but to vacate the schools by 5am BST on Sunday, ahead of the scheduled opening of polls at 8am BST.
Millo said anyone remaining in schools after 5am BST will need to be removed in line with a judge's orders, but predicts there won't be significant problems.
He said: "I trust in the common sense of Catalans and that people will operate with prudence."
Millo added the government is ready to ensure safety as significant numbers of people are expected to take their political views to the streets on Sunday.
It's not clear whether the Catalan government can distribute enough ballot boxes and ballots to its polling stations to carry out a credible vote on whether the northeastern region should declare independence from Spain.
Police in Catalonia have already confiscated 10 million paper ballots.
Meanwhile, thousands of people have rallied in a central Madrid plaza to protest the Catalan regional government's push to hold a referendum on separating the region from Spain.
Spanish unity supporters packing Cibeles Plaza on Saturday morning shouted "Viva Espana," and "Puigdemont To Jail!"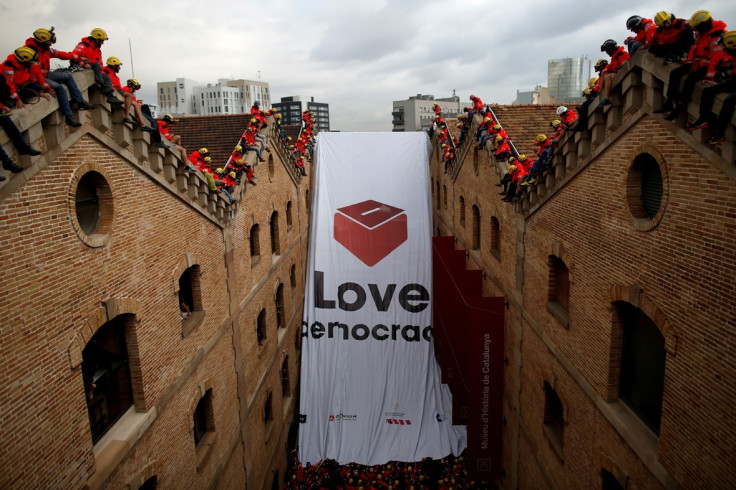 Catalan regional president Carles Puigdemont, who openly favours breaking away from Spain, is among those promoting the independence referendum scheduled for Sunday.
The anti-secession demonstration was the biggest in Madrid since the referendum was called earlier this year. Similar demonstrations were held in other Spanish towns and cities.
While Spanish flags were everywhere at the Madrid demonstration, some of the protesters donned the flag used during Spain's long right-wing dictatorship of Gen. Francisco Franco. It features an eagle in the middle.