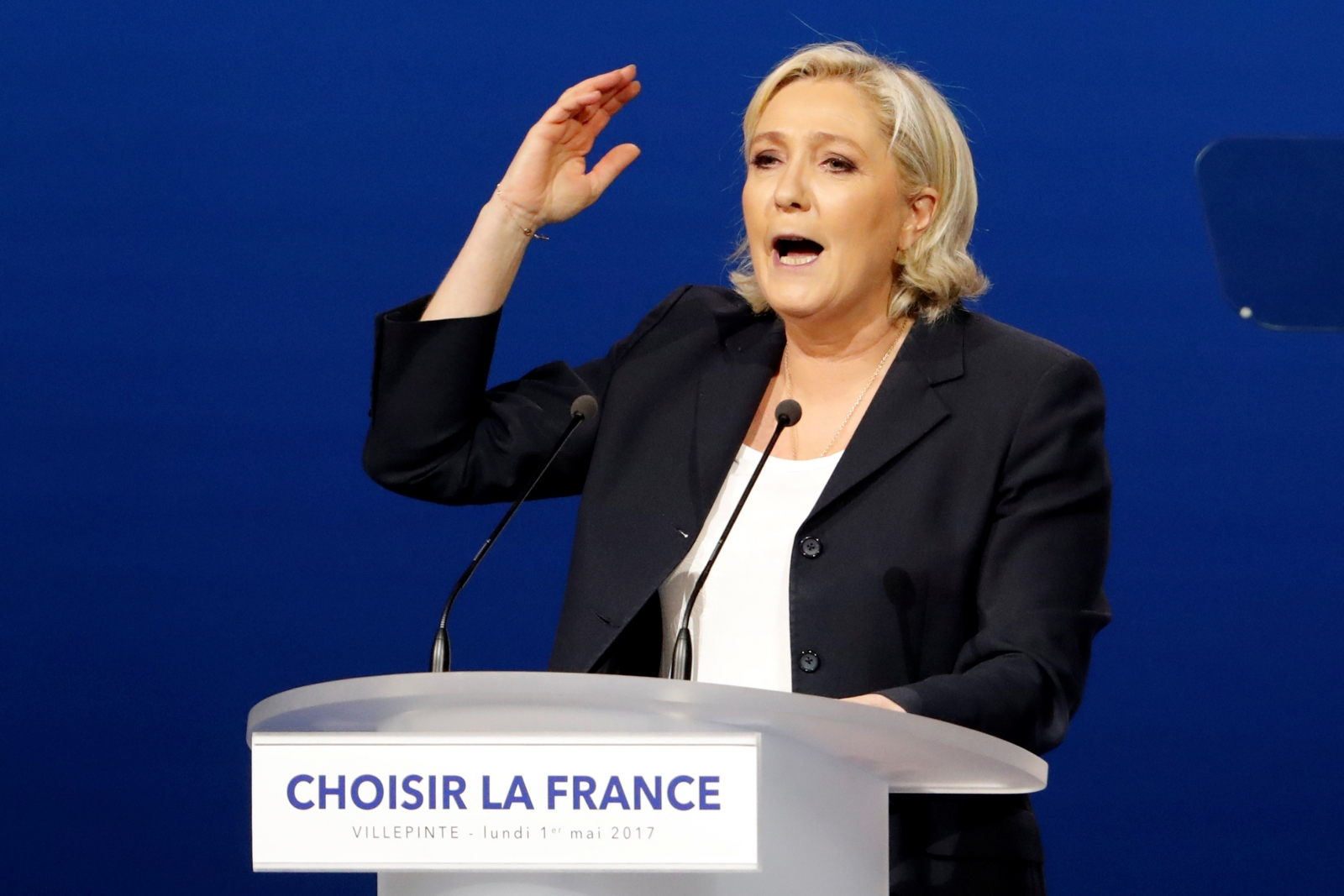 The Ethereum token has crossed $100 (£77.20) for the first time (it's now being advertised to speculators on ZeroHedge), leading a charge of cryptocurrency price hikes, which reflect an uncertain geopolitical environment.
While Le Pen in France is unlikely to send us down the path to a more fractured future, the mere threat to the euro is enough to vitiate crypto prices. And that said, Italy is still stumbling round in the dark and there are storm clouds on the horizon with Trump's belligerence in North Korea, the crisis in the Middle East etc.
Charles Hayter, CEO of CryptoCompare is an expert on cryptocurrency price movements. He said a shock result for Le Pen would certainly benefit non-state cryptos but the probability of such outcomes is receding for the time being.
He suggested some other likely drivers behind the crypto bull run: "Gold doesn't seem to be reacting and Bitcoin/cryptos generally jump with a higher beta at those peak moments of international tension and emotion.
"The rally in cryptos has been driven by hot money chasing higher returns and reallocating their risk across the space after Bitcoins sluggish ability to achieve breakthroughs in its developmental roadmap. As such other contenders have come to prominence through their proactive and unified communities as well as special features.
"Japan's usurping of China's position as the number one Bitcoin trading nation has been backed by governmental moves to mitigate AML issues and bring rigour to the industry. All in all a positive, as exchanges have to upgrade their methods of doing business, which only adds an air of professionalism and brings them into the regulatory fold."
Privacy-centric Dash is a good example of a recently surging cryptocurrency; it recently ramped more than 100% in a week to more than $60.
Ryan Taylor, CEO of Dash Core, acknowledged the uncertainly boost and the fact that fiat currency volatility mitigates the inherently volatile nature of cryptocurrencies: "Whenever there are significant disruptions and uncertainties with major world currencies and economies, we are increasingly witnessing digital currency prices rising as a result.
"Most digital currencies enjoy a predictable supply coupled with increasing demand over time, which is why prices have tended to rise so dramatically over time.
"Their largest drawback as a store of value is their relatively high volatility. Therefore, when government-issued currencies experience their own volatility, digital currencies become that much more attractive on a relative basis. Historically, as digital currencies grow, their price stability tends to improve, so I imagine in the future that the effects on digital currency prices from political events could intensify."
Luis Cuende, co-founder and project lead at Aragon added: "The upcoming elections and political developments across Europe are a sign of great uncertainty and demonstrate the electorate's yearning for change. The fluctuations and crises in fiat currencies since the great recession have certainly benefitted cryptocurrencies which act independently from governments and political factors.
"The upcoming Brexit negotiations and a potential Marine lePen election victory in France could rock the two largest European currencies and could account for spectacular growth in Bitcoin, Ethereum and other currencies."