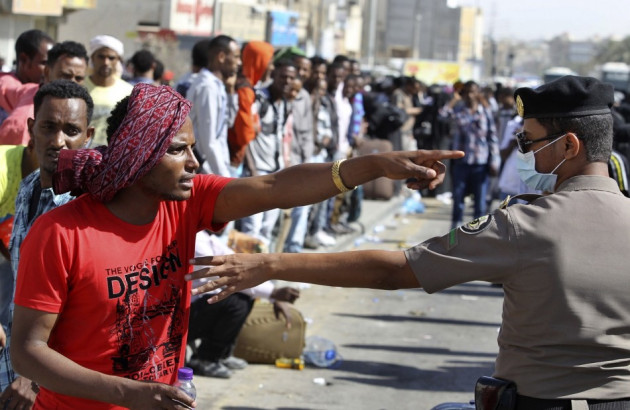 Police have arrested dozens of people protesting outside the Saudi Arabian Embassy in Addis Ababa, over harsh treatment of Ethiopians in the Gulf kingdom.
The police arrested many protestors, blocked roads to prevent an escalation of violence and even forced some journalists to delete photos, according to AFP.
A senior member of the opposition Blue Party movement said that more than 100 people were detained after the Addis Ababa protest. The government said the protesters did not have a permit to hold a rally.
"It was an illegal demonstration, they had not got a permit from the appropriate office," Shimeles Kemal, a government spokesman, told AFP.
Three Ethiopians were killed last week in clashes with Saudi police in the capital Riyadh, which erupted after the Saudi government announced a clampdown on illegal migrant workers. About 23,000 Ethiopians have surrendered to Saudi authorities and will be repatriated.
The first group of around 500 workers have already been sent home.
Riyadh governor Prince Khaled bin Bandar bin Abdulaziz said the crackdown was aimed at illegal migrants, and not any "specific group".
"We will continue these campaigns until we ensure all residents in our country are staying legally," he is quoted by al-Riyadh newspaper as saying.
The Saudi government has created a task force of 1,200 labour ministry officials who are raiding shops, construction sites, restaurants and businesses in hunt for foreign workers employed without permits. More than 16,000 people have been rounded up.
The government issued an amnesty period in April 2013 giving illegal migrants seven months to gain legal status.
Some local news sites reported use of force against Ethiopian immigrants.
A petition has been launched on MoveOn.org to warn the UN and human rights organisations about the plight of Ethiopian immigrants in Saudi Arabia.
Activists have started a Twitter trend with #SomeoneTellSaudiArabia to denounce the treatment of Ethiopians in the Gulf kingdom.
Member of UK Respect Party Lee Jasper likened the plight of Ethiopian immigrants to that of Palestinians at the hands of Israel.
#SomeoneTellSaudiArabia that their racist treatment of #Ethiopians is in many ways just as bad as #Israeli treatment of #Palestinians.
— Lee Jasper (@LeeJasper) November 12, 2013