European Leaders Reach Historic Deal for First-Ever EU Budget Cuts [VIDEO]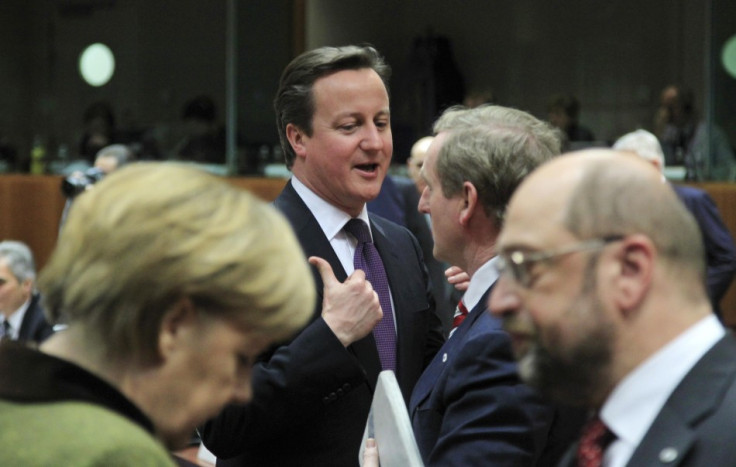 European leaders have agreed to the first budget reduction in EU history after overnight negotiations carved out spending cuts for the bloc over the next seven years.
Final terms of the deal have still to be revealed but some leaders briefed reporters in Brussels that a €960bn (£818bn/$1.29tn) ceiling had been reached after 15 hours of talks that pitted the austerity-led northern countries against the struggling economies in the south and the east of the world's largest economic area.
The agreement represents a €12bn pullback from the acrimonious budget talks that ended in failure in November, and €30bn from the previous seven-year budget deal. It was the first real-term cut in EU budget history.
While the UK, Germany, the Netherlands, Denmark, Sweden and Finland wanted deep budget cuts, southern beneficiaries preferred less stringent reductions.
Prime Minister David Cameron, who was at the talks, had demanded tens of billions of euros in cuts from the proposed budget.
"The numbers that were put forward were much too high. They need to come down, and if they don't come down, there won't be a deal," he said on his way to Brussels for the two-day summit.
"The EU should not be immune to the sorts of pressure we have to reduce spending, find efficiencies and spend wisely - what we are all doing. There is a possible deal to be done - if they want to do it".
While Cameron met close allies in the bloc, German Chancellor Angela Merkel and the president of the European Council, Herman Van Rompuy, along with European Commission president Jose Manuel Barroso and French President Francois Hollande snubbed the key meeting amid indications of a budget compromise.
© Copyright IBTimes 2023. All rights reserved.