Guaranteeing the rights of Poles living in the UK will be the focus of talks between the Prime Minister Theresa May and her Polish counterpart Beata Szydlo.
Ahead of the Downing Street summit on Monday (28 November), May said she wanted to ensure that Brexit did not weaken Polish-UK ties.
"We share a clear commitment to take our cooperation to the next level and to firmly establish the UK and Poland as resolute and strategic allies in Europe," she said.
The PM will also seek to maintain close relations with Poland on defence and discuss a resurgent Russia and the threat posed to NATO's eastern flank.
The prime minister is not expected to offer any guarantees on the rights of 800,000 Polish citizens currently living in the UK, although government sources told Sky News she did want to secure a deal covering reciprocal rights as part of Brexit negotiations.
May has so far refused to guarantee the rights of EU citizens in the UK saying the Government must not "reveal its hand" ahead of Brexit negotiations, which will begin when she triggers Article 50 before the end of March.
However in an article in the Telegraph, Szydlo said that the EU must compromise to get a Brexit deal that works for Europe, as well as for Britain.
She added that the result of negotiations will depend on "imagination and leadership" and called on Theresa May to set out her Brexit plan soon.
"For years we have acted together to work towards a European Union that is open, less bureaucratic, and economically more competitive. That is why Poland was saddened, probably more than any other country, with the result of the British referendum," Szydlo said.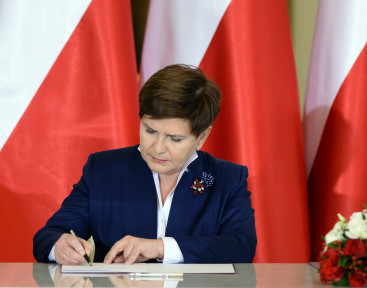 The Polish Prime Minister added that her country will cooperate in Brexit negotiations in a "constructive and down-to-earth manner" and said the new relationship should be "as close as possible".
She said: "We need a good compromise which gives both our countries the best possible options for economic and security cooperation."
The EU's chief Brexit negotiator Michel Barnier has said there can be no negotiation about the terms of an UK exit without first triggering Article 50. This led to 80 MPs publishing a formal letter to EU President Donald Tusk calling on him to protect the rights of British citizens on the continent.
The letter, signed by Iain Duncan Smith, Michael Gove and Theresa Villiers, also warned people are not "bargaining chips" in the negotiation process.
Meanwhile, the BBC has reported that the government is facing a legal battle over whether the UK can be in the single market after Brexit.
Lawyers say uncertainty over the UK's European Economic Area membership means MPs could be stopped from taking Britain out of the single market, the BBC reported.