European politicians and business leaders have warned that Britain needs to "shed its illusions" about Brexit and realise that the process will be fraught with difficulties.
The warning comes as Prime Minister Theresa May, on the back of delivering her 12-point plan, travels to Davos to deliver her "global Britain" message.
Brussels negotiators argue that the prime minister's hopes of achieving a quick, clean break from the EU is over-optimistic and that her negotiating positions contain key flaws the bloc would not be able to accept.
Guy Verhofstadt, the European Parliament's Brexit negotiator, warned that Britain should not expect continued tariff-free access to EU customers while simultaneously rejecting other key elements of the single market, including free movement.
He said in The Guardian: "It is an illusion to suggest that the UK will be permitted to leave the European Union, but then be free to opt back into the best parts of the European project, for example by asking for zero tariffs from the single market, without accepting the obligations that come with it.
"I hope that British people will see from the perspective of an EU taxpayer, how unreasonable this would be."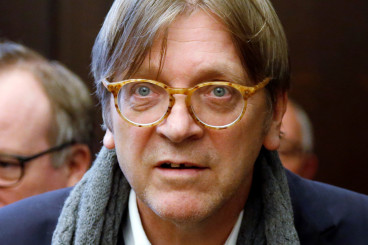 Jean-Claude Juncker, the president of the EU Commission, painted a similar picture to Verhofstadt, arguing that negotiating Brexit will be "very, very, very difficult" for Britain as it would be considered a foreign country to the rest of the EU.
"We want a fair deal with Britain and a fair deal for Britain, but a fair deal means a fair deal for the European Union," he said.
The head of the International Monetary Fund (IMF), Christine Lagarde, told the BBC that any deal with the EU will "not be as good" as membership.
"When you belong to a club, whatever that is, the members of the club have a degree of affinity and particular terms under which they operate," Lagarde said. "Someone outside the club has different access."
Lagarde, however, welcomed the prime minister's speech on Tuesday (17 January) – where it was made explicit that Britain would leave the single market – for providing greater clarity.
"Better clarity, less uncertainty is certainly better for the UK economy and for the rest of the European Union," she said, but warned that there were still many questions to be answered.
Lagarde said the terms of the agreement, over what time and under what length of transition period all need to be established.
Meanwhile, UBS and HSBC both said they were prepared to move 1,000 staff out of London to Europe as Brexit takes effect.