David Cameron has won a draft agreement on the "emergency brake" he wants to impose on in-working benefits for EU migrants. The prime minister wants the brake on benefits to be imposed if the UK votes to remain in the EU.
He and his aides were locked in talks with European Council President Donald Tusk and his team to secure changes that would allow national parliaments to veto laws.
The so-called "red card" would have to gain the support of 55% of EU members. Cameron now has until an EU summit on February 18-19 to convince leaders of his plan.
Talking after the draft was published, Cameron said the changes deliver "substantial change" but added there was still work to be done on convincing his EU counterparts of the plan.
In a letter to EU members published shortly after the announcement, council president Tusk said: "Keeping the unity of the European Union is the biggest challenge for all of us and so it is the key objective of my mandate.
"It is in this spirit that I put forward a proposal for a new settlement of the United Kingdom within the EU. To my mind it goes really far in addressing all the concerns raised by Prime Minister Cameron. The line I did not cross, however, were the principles on which the European project is founded.
"I deeply believe that our community of interests is much stronger than what divides us. To be, or not to be together, that is the question which must be answered not only by the British people in a referendum, but also by the other 27 members of the EU in the next two weeks."
He added that nations would need to compromise to reach a consensus but that "to fail would be compromising our common future".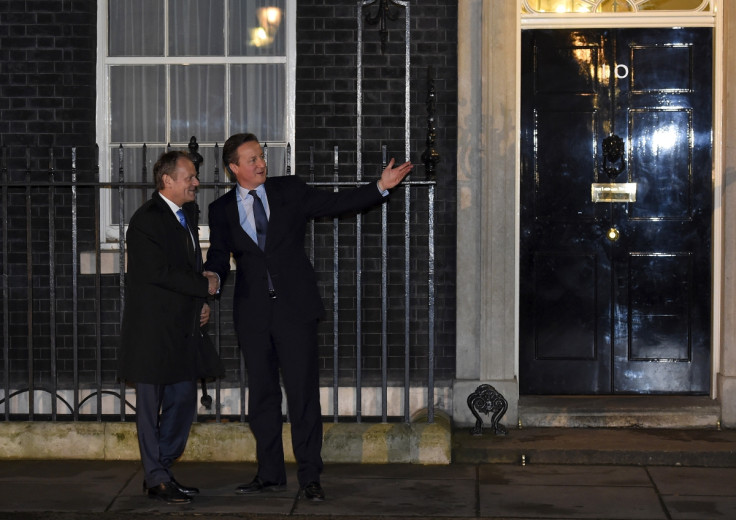 As well as the red card, the Cameron wants to secure:
No single-currency demand;

Powers to veto laws and policy;

Opt-out of closer ties between members;

A "hand brake" on in-work benefits for migrants.
The four-year ban on in-work benefits was the main sticking point during negotiations, with nations such as Poland branding them discriminatory against migrants. An "emergency brake" on benefit payments emerged as an alternative and would allow members to block dishing out the benefit if states proved their public services came under excessive strain.
If Cameron can get members to sign up to his vision of a reformed EU, he is expected to hold a referendum in June on Britain's relationship with the EU, fulfilling a Conservative election manifesto pledge.