Britain's draft reform deal with the EU is fair for the UK and the other 27 member states in the political and economic union, according to Jean-Claude Juncker. The European Commission president welcomed Donald Tusk's proposed settlement with David Cameron when he addressed the European Parliament on 3 February.
Junker told MEPs that he agreed with the EU Council president's plan to make the EU more competitive for business, particularly small and medium-sized firms, and stressed the UK already has more opt-outs from Brussels' laws and treatise than any other member state.
The top civil servant also said national parliaments should play a greater role in the EU and argued the proposed "emergency benefits break", which would enable the UK to apply to Brussels to block EU migrants from receiving in-work welfare payments for up to four years, was compatible with the union's founding principles and would only be used in "exceptional cases".
Cameron has described the settlement as "real progress" but the prime minister has faced criticism inside and outside his party over the proposed reforms. Eurosceptics have argued that Tusk's plan is "watered down" and have noted the planned "red card" measure, which would enable the UK to block EU laws, could only come into force with the backing of more than 50% of EU member states.
"The British people want to take back control and end the supremacy of EU law over our economy, our borders and our parliament," Liam Fox argued.
The former defence secretary added: "None of these changes even come close to the fundamental changes promised to the public. We are being asked to risk staying in the EU based on the back of empty promises from the EU that are not even backed up in Treaty. The only safe option is to Vote Leave."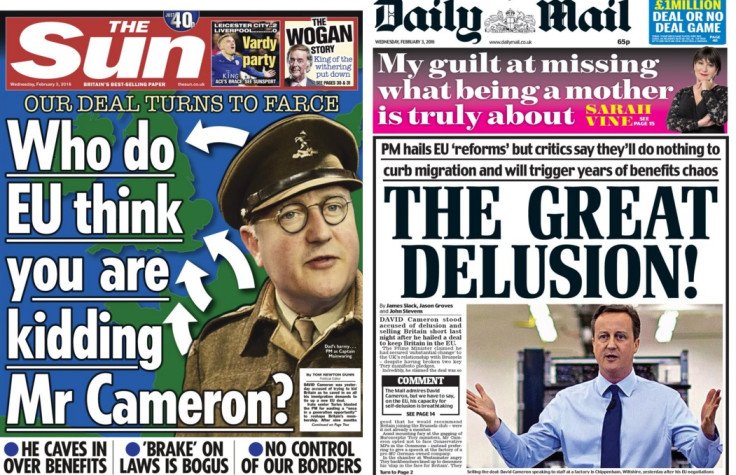 The prime minister was also savaged in the British press, with front pages mocking and criticising the Conservative leader in equal measures. The Sun used popular 1960s and 1970s sitcom Dad's Army to attack the Tory leader. "Who do you think EU think you are kidding Mr Cameron?" Rupert Murdoch's tabloid asked. The Daily Mail also blasted the prime minister with its "The Great Delusion" splash.
The EU referendum is now expected to take place in June. The latest opinion poll from YouGov had "leave" four points ahead of "remain". The survey, of more than 1,700 people between 27 and 28 January, put "leave" on 42%, "remain" on 38% and "undecided" on 20%.