EU Referendum: David Cameron's lack of a Brexit plan 'is nothing short of irresponsible'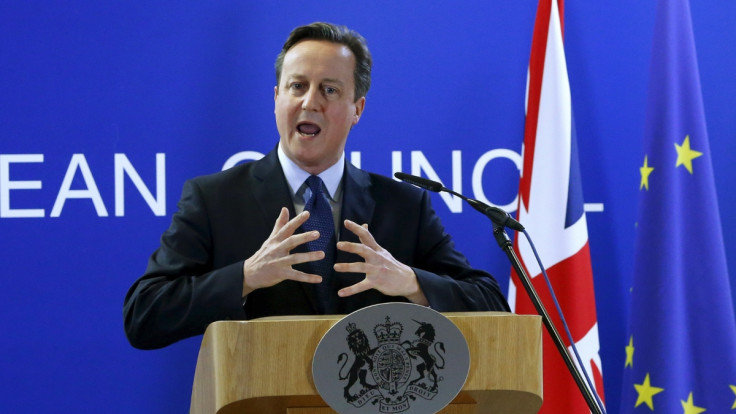 Prime Minister David Cameron has infuriated Eurosceptics by admitting that there is no plan should British voters decide to leave the EU. When asked whether the government is "prepared for the possibility" of a Brexit, Cameron said he does not think that walking away is "the right answer."
The remarks have raised alarm bells among Eurosceptic ministers, who are concerned that the lack of a contingency plan is designed to highlight the consequences of leaving, according to the Times. Senior Conservative backbencher David Davis, who is campaigning for Britain to leave the EU, slammed the government's lack of preparation.
"Departure is not difficult, but it is complicated," Davis said. "We should be getting on with this now. Let's be pessimistic and say there's a one in three chance of us leaving — that is still a big contingency, so it is nothing short of irresponsible not to have done any preparation. How on earth can you assess whether Brexit is right or wrong unless you assess how you would do it?" The backbencher told BBC's Sunday Politics that he expected "five or six" Cabinet ministers to push for Britain to leave the EU.
It comes as Cameron faces yet another battle over claims that Number 10 was vetting – and even altering – ministerial speeches in a bid to temper Euroscepticism, but this was denied by the government. In spite of the apparent attempts to stifle anti-EU sentiment, Cameron has not ruled out supporting a Brexit should his renegotiation falter. "Obviously I want to have as many people supporting the side that I am on, whatever side that is when the time comes." Cameron said.
"The government is not going to be neutral on this issue, with people on one side or the other. My intention is that at the conclusion of the negotiation the Cabinet has a discussion and reaches a clear recommendation to the British people of what we should do. I hope that will be staying in a reformed EU." Cameron also refused to resign if voters do decide to leave the EU.
Cameron also expressed his hope of striking a renegotiated deal in February, which would pave the way for an in-out vote to take place in July – but that could be pegged back until after September should he experience any delays. "I'm hopeful of a deal in February and if we do that we can go ahead and hold the referendum," Cameron said. "There is a huge prize for Britain if we can deal with the things that drive us up the wall about Europe." He added that the "best answer" was for Britain to remain in a reformed EU.
Expressing its desire for the prime minister to strike a deal as soon as possible, the Leave.EU campaign said: "The sooner the prime minister produces his worthless deal the better – then we can move on to the genuine campaign and the British people can at last have their say and leave the outdated political circus that the EU has become."
© Copyright IBTimes 2023. All rights reserved.