EU referendum: George Osborne and Michael Gove at loggerheads over continued membership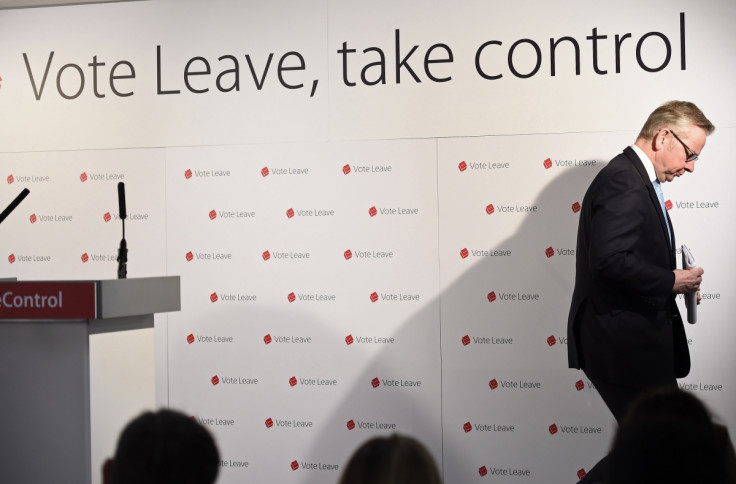 With less than seven weeks to go before the Britons head to the polls to have their say on the critical EU referendum, Conservative colleagues George Osborne and Michael Gove were at loggerheads over the merits of continued membership of the bloc. In perhaps what is one of the biggest admissions of the referendum campaign, Justice Secretary Michael Gove admitted that a vote to leave the EU equates to a vote to leave the prized single market.
Gove insisted that Britain could still have the best of both worlds, saying that it would still have access to the EU's internal market of 500m people whilst casting off shackles including the free movement rules, paying into the EU budget and being bound by Brussels' regulations.
"If you negotiate a trade agreement with a country with which you currently have tariffs, then you need to negotiate which tariffs will remain and which will be reduced," Gove said on The Andrew Marr Show.
"If you don't have tariffs then both sides can agree there is no need to erect them. Germany carmakers are not going to want to have tariffs erected when they sell many more cars to us than we sell to them," he added. "And I can't imagine a situation if any individual nation of the EU wanted to erect tariffs, that others would let them."
Appearing on ITV's Peston on Sunday show, Chancellor George Osborne pounced on the justice secretary's remarks, saying leaving the EU would have long-term economic consequences. "Today we are getting to the heart of the matter. We have had the Leave campaign admit this morning that Britain would leave the single market – that is the largest free trade area in the world – that would be catastrophic for people's jobs, incomes and livelihoods," said Osborne.
"Now some people might think wrecking the economy is a price worth paying. I absolutely reject that... There is a long-term cost, equivalent to £4,300 to families if we leave. If we leave the single market, our analysis says we will be worse off than that," the chancellor added.
Osborne also downplayed calls for Prime Minister David Cameron to participate in a televised debate with leading Leave campaigner, Boris Johnson. In an attempt to stave off perceptions of in-fighting in the Conservative camp, Osborne said: "I know everyone wants to turn it into a Tory soap opera but it's more important than that."
According to a Financial Times report, BT chairman Sir Michael Rake described the single market as "critical to the economic security of the country, investment and jobs" while Airbus US president Paul Kahn said its business structure is "entirely based on our ability to move products, people and ideas around Europe without any restriction."
Jurgen Maier, chief executive of Siemens UK took to Twitter to decry Gove's suggestion that the UK could have it all in the event of a Brexit. Writing on Twitter, he said Gove's comment "lacks any understanding of what the single market is all about and the benefits it generates. Unbelievable."
He added: "So let me understand this. We want to be outside the single market but want to be in it? Sound stupid? #StrongerIn."
© Copyright IBTimes 2023. All rights reserved.